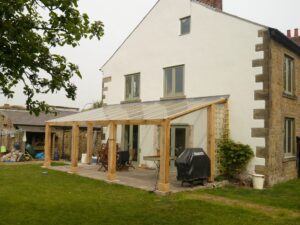 Green Oak Verandas; Year-Round Outdoor Space
Green Oak verandas are ideally suited to the U.K. We live in a country which is equally famous for two things:
1. our finely kept and tended gardens, and…
2. our unyielding drizzle.
The Great Outdoors… Indoors
How many times have you planned a BBQ or a little get together in the garden, and just before you're ready to get started, the sky opens. You either end up with someone making regular sprints to the BBQ to flip the sausages in the rain, or your food is transferred to the oven – neither of which are ideal. A Green Oak veranda offers a solution. With their open sides and water-proof roof, you can be immersed in the garden without worrying about the weather.In the summer, a veranda will act as a sun trap on your patio. If you enjoy sunbathing or simply reading in the warm sunshine, then this is an excellent option for your garden.
Oak Verandas have Traditional Character
Verandas, when constructed and installed in certain ways, can cheapen the look of a house. By constructing the veranda entirely from green oak, this problem is alleviated.The water content of oak at the time it is cut is over 20% – as the material loses moisture to the environment and stabilises, it will move and shake. Most oak that is used in application today has been dried in a controlled environment to limit and control this movement; green oak has not been through this process. This type of wood was used regularly in Tudor construction and is responsible for the warped beams and shaked external timber that adds so much character. This also gives an idea of longevity for this type of material.
We use SGG Planitherm, toughened, single pane glass and superior cappings as standard. We fix the structure with steel feet into solid concrete. We then clad the steel feet to continue the timber feel.
Why Use Gowercroft Joinery
Gowercroft Joinery has been constructing and installing verandas for a number of years. Our customers appreciate that we begin by listening to what they really want, rather than making a 4-hour sales presentation to push a standard product. Over 90% of our business comes from referrals or repeat business and this demonstrates the value and service that we provide to our customers. Our quotations are always free and no-obligation, so give us a call today.