Wooden windows fit for a King.
It is often referred to as the best address in London, or simply as billionaires' row, because of the concentration of Kings, Sultans and Oligarchs who reside there. The Bishops Avenue is within the Highgate area and is certainly a prestigious part of the world.
Wooden windows are perfect for a prestigious new build apartment
In 2006, Gowercroft Joinery was contacted by WillowAcre regarding a complete new-build development they were undertaking at 49 The Bishops Avenue. The project architect had specified large sliding doors, but these did not match well with regular window types. We looked at creating all of the units in a tilt and turn style, which better suited the windows and doors. With some of units measuring two metres high and a metre and a half wide, there were concerns that the tilt and turn configuration would not be possible.
David Brown (Technical Director at Gowercroft Ltd.) undertook substantial research to find the best gearing to manage the stresses and weights involved in the large, tilt and turn specifications. The timber sections were designed to complement the gearing and to work with the overall design of the units. Multiple companies' sample windows underwent the process of comprehensive testing; but Gowercroft's came out on top.
Gowercroft fit the bill… and the windows!
"We have been using Gowercroft for the past 8 years and have always found them to have a high standard of quality and professionalism, often lacking in British manufacturing companies."
Barry Glantz, WillowAcre Investments & Developments Ltd.
Over the course of two years, we completed the entire internal and external joinery package. Making and fitting over 200 tilt and turn and multifunction windows and doors, American black walnut internal door-sets with architraves and bronze inlays, staircases and rails, various furniture pieces (including walk-in wardrobes and mirror doors), and over nineteen kilometres of three-part skirting board with secret fixings, also in American black walnut.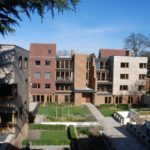 Aftercare for the windows
Five years after completion, our relationship with WillowAcre and the residents at 49 The Bishops Avenue remain strong and we continue to complete follow-up work on the site.
"I would have no hesitation in recommending Gowercroft, a company that goes the extra mile and add value to any project."
Barry Glantz, WillowAcre Investments & Developments Ltd.
Watch Gowercroft Director, David Brown, discussing this project and the cost engineering processes that were used to deliver exceptional products on a sensible budget.