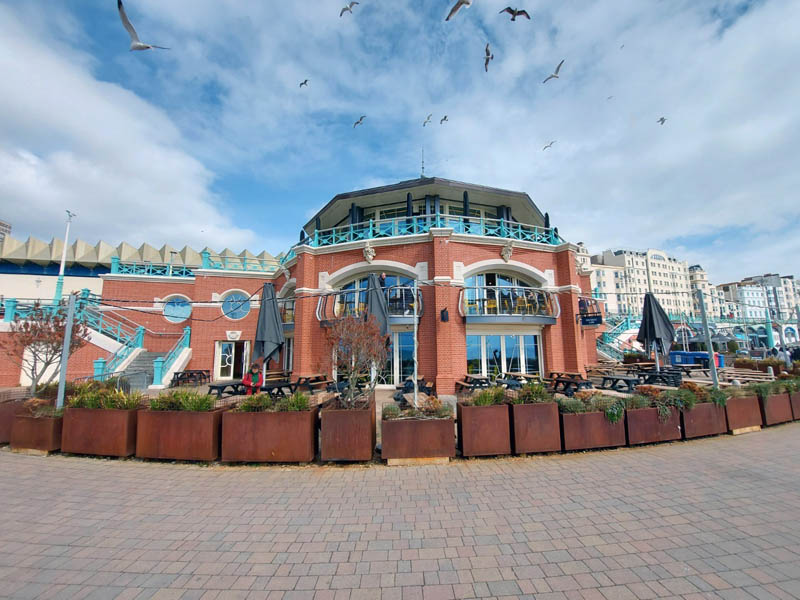 Shelter Hall, Brighton
Among Shelter Hall's standout features are its signature timber windows and doors. Crafted for panoramic views of the Brighton coastline, they combine slim elegance with coastal durability. These windows, manufactured by Gowercroft Joinery, not only withstand harsh weather conditions but also add a touch of timeless charm to this historic gem.
Bringing Shelter Hall back to life!
The new iconic Shelter Hall is a central part of Brighton and Hove City Council's ambitious plans for the restoration and regeneration of the town's famous historic seafront.
Now an important visitor attraction, this vibrant centre brings together flagship restaurants and international cuisines, musicians and live entertainment with a thriving retail facility, terrace café, new public toilet facilities and extended business premises.
A winner of the 2021 Public and Community Sussex Heritage Trust Award, this landmark building has been a remarkable feat of conservation, restoration, civil engineering, and re-interpretation.
How the story began….
Located on the junction of two conservation areas, the original 1880s building forms part of the historic Kings Road Arches, where bathers and locals would traditionally shelter and take refreshments in inclement weather.
The structure was built partially within the red brick vaults that supported the main Kings Road promenade and was lit from above by a glass dome at street level, later to be replaced by a glass sided kiosk, which acted as a lightwell.
Over the years, the building fell into disuse and became structurally unsafe. Following a successful planning approval, Brighton and Hove City Council appointed R H Partnership Architects to work with main contractor, Edburton Contractors Ltd, in delivering a newer and larger version of the original building, which would preserve the look and character of the seafront.
Construction challenges
In 2017, the old unlisted building was demolished, and a massive two-year programme of works was undertaken to reinforce the ground and buildings supporting the seafront road before reconstruction of the new Shelter Hall could begin. This was made even more challenging by the opening of a massive sink hole in front of the former fishermen's arches.
Complex engineering solutions included a modern concrete sea defence wall (comprising over 100 huge slabs) sunk into the ground and pilings to support the busy A259 Kings Road thoroughfare and prevent the chalk cliffs beneath the road from collapsing.
Sympathetic design for our times
Although essentially a contemporary design using modern materials, the design is sympathetic to traditional Brighton and Hove seafront architecture, retaining a similar shape and features to the original.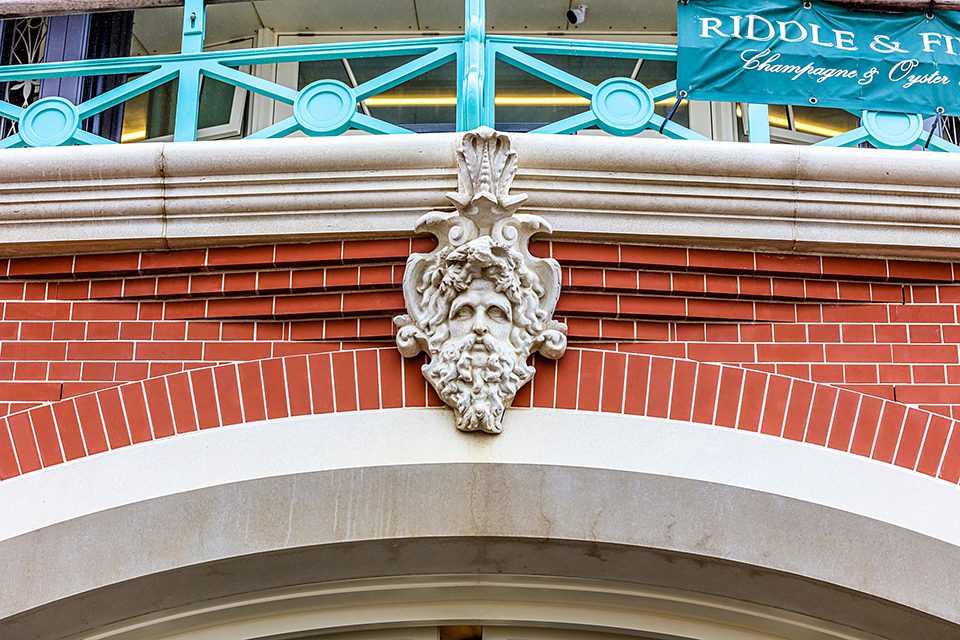 The semi-circular geometrical structure has five sides instead of the original three and was re-built three storeys high including a mezzanine balcony. The 15,000 sq ft main hall is more than twice the floor area of the 19th century original and juts out several meters further onto the seafront.
Replacing the old decagon kiosk on the upper promenade is a new glass sided rotunda with a restaurant at street level, which opens onto a roof terrace offering stunning views of the coastline.
Historic records and photographs were closely examined as a reference for the meticulous architectural detailing, and high quality, robust and sustainable materials, were chosen to give an authenticity and a life expectancy of more than 125 years.
The new red brickwork frontage in old non-standard brick sizes is complemented by bespoke arched reconstituted stone lintels and dressings, and new Neptune figure heads that top each of the two storey arched openings were recast by specialist fabricators to replicate the originals. All materials were sourced from the UK, where possible, and to reduce the project's carbon footprint and further support the local economy, many of the sub-contractors were chosen from local or regional firms.
"We wanted to create a functional, accessible and sustainable building with a unique identity of its own that would complement its historic surrounds and enrich the seafront experience for all those who frequented it," said Philip Naylor, Director at R H Partnership Architects.
Spectacular glazing
One of the standout features of the new building is its signature timber windows and doors, which were configured to give seamless panoramic views over the Brighton coastline.
Manufactured by Gowercroft Joinery, they were chosen for their slim elegance, delicate aesthetic and their immense strength and durability to withstand severe coastal weather conditions and the corrosive effects of the sea spray, thereby minimising any potential future maintenance costs.
The slim profiles were made from robust Accoya®, with bespoke trickle ventilation concealed so as not to thicken frame sizes but sized to offer as much passive background ventilation as possible. These were coated with a specially formulated protective finish and the glazing, held with delicate beading, was toughened, and laminated.
Opening onto the pavilion area a series of four-panelled panoramic lift and slide patio doors, from Gowercroft's new Peveril range, were specially designed with bespoke astragal glazing bars in an elegant geometric pattern.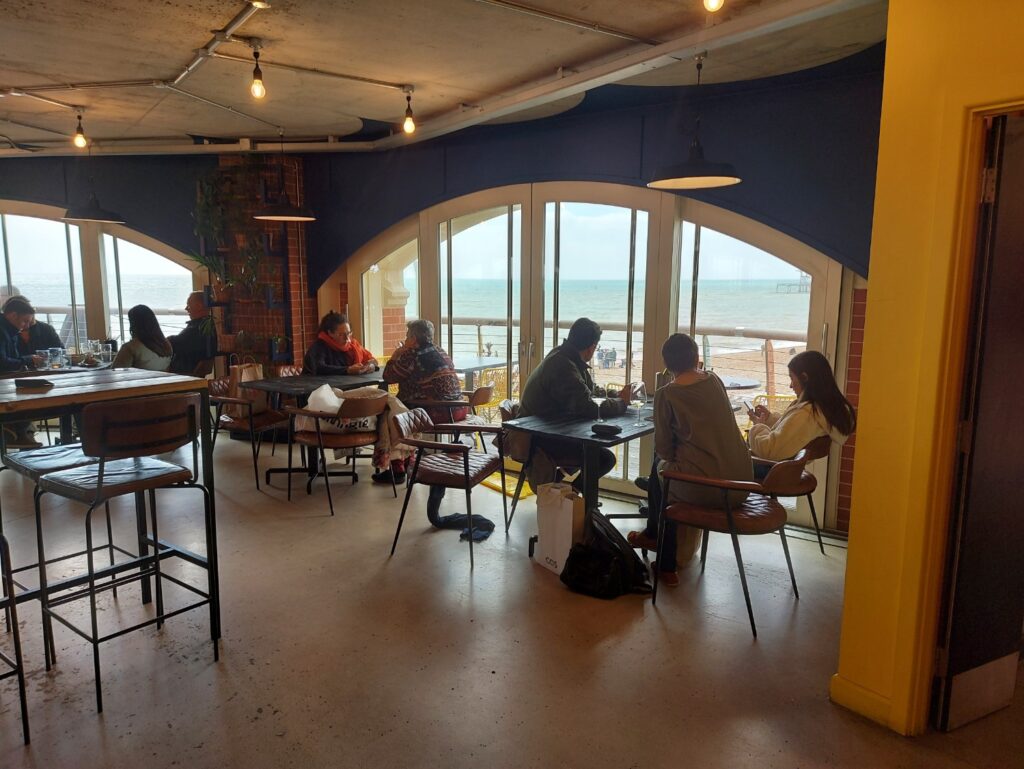 This theme was continued on the mezzanine floor, where more Panoramic sliding doors were installed within the curved brickwork, so that they pass neatly behind the walls when open and, when closed, their bespoke internal curved linings match the profiles of the external stone arches.
The rotunda roof terrace on the second floor incorporates eight Melbourne outward opening patio door sets with bespoke astragal bars mirroring the floors below.  These were combined with Hardwick flush casement windows above to create an almost continuous glass screen, sitting behind strong security grilles, whose lace-like mesh screens offer protection when closed.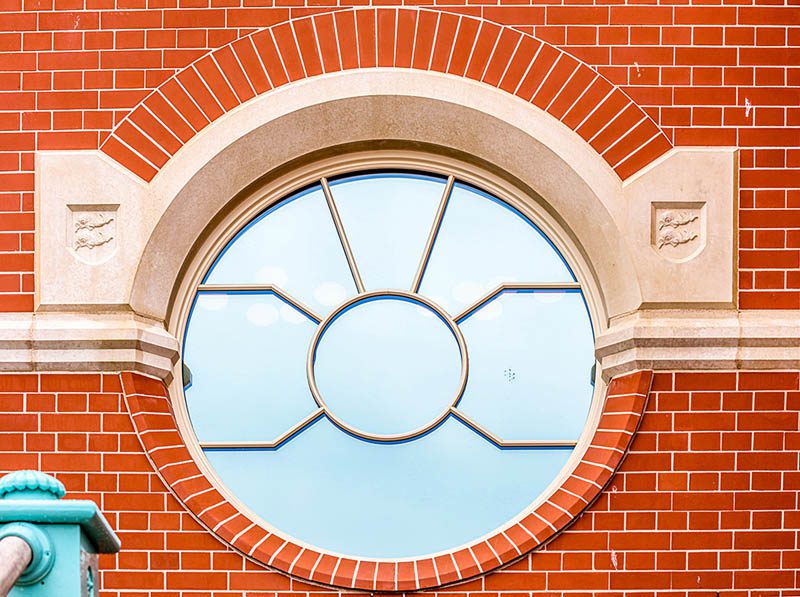 To each side of the main building are 2m diameter circular windows, with bespoke astragal patterns, looking across the seafront like portholes.
"It was a pleasure to work on this prestigious project, which required such high standards of performance and aesthetics throughout. The architectural team was meticulous in relation to every aspect of the design, and we were able to respond with innovative and bespoke window and doors solutions that have helped make Shelter Hall so unique," said Andrew Madge, Managing Director of Gowercroft Joinery.
An amazing transformation
For Brighton and Hove City Council the new Shelter Hall is not only a lasting testament to the town's architectural heritage but a thriving new cultural, social, and business destination at the heart of the community.
"We are extremely proud of the transformation of Shelter Hall. This amazingly beautiful building has become the 'go to' place to sample some of the town's best cuisine, top restaurants, live music, and entertainment as well as being a commercial centre offering the space for local businesses to grow,"

Brighton and Hove City Council. 
Shelter Hall is part of a multi-phase, large-scale programme of development and regeneration designed to rejuvenate Brighton and Hove City's seafront to help drive business, retail, and tourism. When complete the whole project will form a major piece of modern, public realm and urban design that will once again return the seafront to the splendour and popularity of its Victorian heritage.