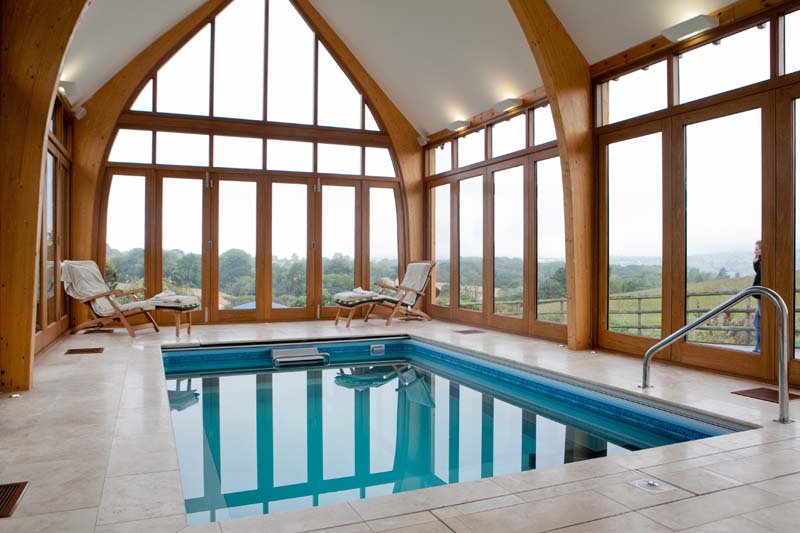 Bifold Windows and Doors fitted to a pool enclosure
This stunning property in Hazelwood, Derbyshire benefited from having new bifold windows installed around its swimming pool to create an open space to relax.
Bifolding Windows to create the feeling of space
Bifold Windows were an excellent solution to improve this already wonderful home. To have a swimming pool is an enviable addition to any home, and this Derbyshire property is no exception. The pool area is in a high vaulted ceiling and is both simple and elegant in it's styling. The addition of bifold doors really opens the space up to the surrounding countryside. Whether they are closed or open, you definitely have the impression of being in a wide open space in the countryside. Of course, the British summer being what it is, it's great to have all the light and unfetteredness of being outside, even when it's raining!
What are Bifold Windows?
Bifold windows are full height doors that are made from a series of panels. They can be as wide as a set of double doors to as long as the full length of a wall. They are a collection of doors that hinge vertically to fold up like a concertina. When folded up they take up very little space as so create a very wide aperture. The generally run along a 'track' that guides them when folding and unfolding. There are two tracks – one top, one bottom, that make the arrangement very sturdy even when half open.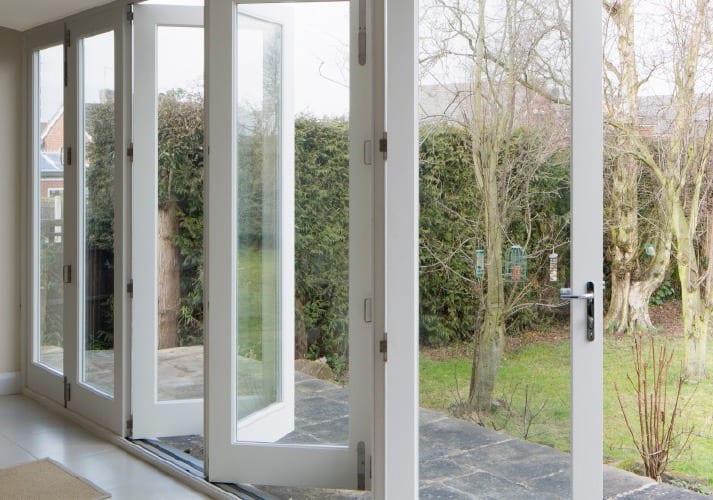 Where are bifold doors used?
Bifolding windows are generally used when a room opens on to an outdoor living space. They blur the lines between indoors and outdoors and give the impression of a very wide, open area because they create what is in effect a wall of glass. They are often found as the entrance to terraces, balconies and patios.
Other work at Lumbleigh House
In addition to the new bifolding windows, Gowercroft also updated the existing woodwork in the pool enclosure and updated the Porch. We added a new hardwood door and matching casement windows, all made from Accoya, an ethically sourced timber with exceptional qualities.
Why we use Accoya
Accoya windows and doors very environmentally sound and user friendly. Not only is the wood itself an FSC sourced material, but it has a very long life expectancy. Accoya products also require very little maintenance, so throughout their life, your windows and doors have a very small impact on the environment. At Gowercroft, our meticulous manufacturing and finishing processes ensure that your windows and doors will last a lifetime.
The Tutbury Bifold Window
We used our 'Tutbury Bifold Door' on this project – it features multipoint locking and double or triple glazing with outstanding performance levels. You can read more about the Tutbury bifolding doors on our product pages.
Lumleigh House Gallery
What Lumbleigh House Owner David Shaw has to say about Gowercroft
The Gowercroft product is excellent and made to very high quality standards. In addition, the installation and after sales service was first class and done by people with a real desire to satisfy the customer's needs. David Shaw, Owner
Back to Ensor Mews Tilt and Slide Patio Doors – Return to Gerrard Cross Accoya Doors