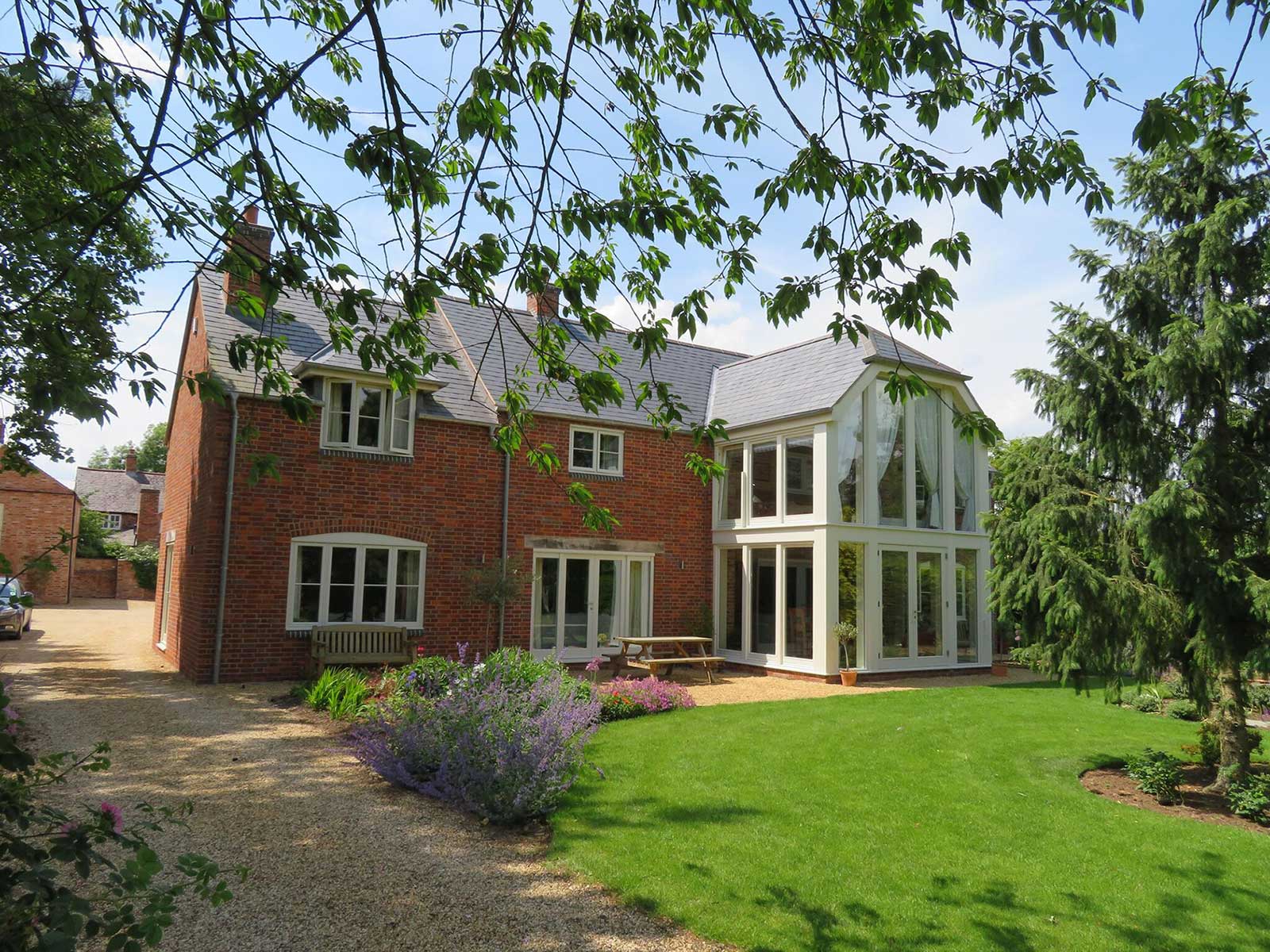 Flush Casement Windows, Lutterworth
New build property with traditional flush casement windows and various exterior doors. The project also included a double storey screen, built with a steel structure and fitted with a mix of flush casement windows, double doors and tilt and turn windows. We tied all of these elements together with hardwood timber cladding to the steel structure.
Award Winning new build in Lutterworth, Leicestershire
Gowercroft were delighted to be involved with this ambitious self build project in the Leicester countryside. Landmark homes went on to receive a merit award from the Leicestershire and Rutland Local Joint Consultative Committee for the Building Industry. The home was also featured in BuiltIt magazine who published and extensive article in praise of the project.
External Joinery
One the the features that sets this already characterful farmhouse apart is the 2 storey glass and wood extension. Built on a steel frame, we fitted hardwood timber cladding. We were also able to seamlessly integrate the windows and doors into the structure to create a uniform look.
Windows of all shapes and sizes
We fitted a variety of both flush casement and tilt and turn windows during the build. Because the property comprised two seemingly contradictory elements – the traditional brick farmhouse and the more modern extension it was necessary to install the best window system for the particular setting but not make the glass structure look like an afterthought.
This attention of both form and function is typical of how Gowercroft approach any project to ensure our fittings are both practical and aesthetically pleasing.
Doors
The house also needed a wide selection of doors building and fitting. From double french doors to single panel access doors, we strived to maintain continuity throughout. This coherence of all the different elements of the woodwork make this project truly unique and exceptional.
Built to last
As with all Gowercroft installations, all the elements were designed, built and fitted according to our meticulous workshop systems that ensure a long and trouble free lifetime of all our windows and doors. All stages of the build from selecting the timber to the paint processes and glazing undergo the scrutiny of our quality control. This means that by the time the fittings reach you, they are of unparalleled quality and finish.
The classic range of wooden windows and doors
As you have no doubt gathered, our classic range is not just a 'one size fits all' set of windows but a fully integrated system that is well suited to unique and characterful structures and also to heritage projects. If you would like to add a touch of Gowercroft style and finish to your home, you can find our more about the classic range here – or contact our sales team on 01773 300510.
Orchard House Gallery
Orchard House feature in Build It Magazine
Merit Award from Leicestershire and Rutland Local Joint Consultative Committee