We have high standards
We have selected only F.S.C. timbers for our standard options. We do; however, have comfort working in a great variety of sustainable-sourced, exotic hardwoods if required.
Engineered Red Grandis
A high-grade clear timber delivering consistency of, appearance, grain and work-ability. We purchase this timber as an Engineered Component offering proven strength and extraordinary efficiency.


Red Grandis has undergone independent third-party testing by TRADA Technology Limited and Building Research Establishment, achieving great results for natural durability and resistance to fungi – (key for long term performance), as well as Class D35 for strength and stiffness and Class C35 for density to prove its suitability for joinery and structural use.
Under the plantation growing process intensive pruning is carried out to provide a knot free, clear, uniform timber with sapling thinning to enable the trees to reach significant diameters. It is easy to machine and shape and because all lengths are identical, there is less waste and reduced production time, as well as giving a much better finish overall – great for us and for our customers.
About Red Grandis
Formal name: Eucalyptus grandis.
Growth to full maturity:
25 years, saplings have been known to put on 7m of growth in the first year!
Location of growth:
Native to East coast of Australia, now grown in plantations in Australia, New Zealand, South Africa, Sri Lanka, Brazil and Uruguay.
Estimated lifespan in external joinery application:
50 years+ Please note that this figure would be based on sensible coating cycles and good maintenance.
Quality of paint finish:
Very good, grain clearly visibleThe tallest ever recorded was known as "The Grandis" near Bulahdelah in New South Wales, with a height of 86 m (282 ft) and a girth of 8.5 m (28 ft).
Accoya©

Accoya is the world's leading high technology wood. Created from sustainably sourced softwood; it matches or exceeds the durability and stability of the very best tropical hardwoods.
Accoya wood production process takes sustainably-sourced, fast growing softwood and, in a non-toxic process, creates a durable and stable wood.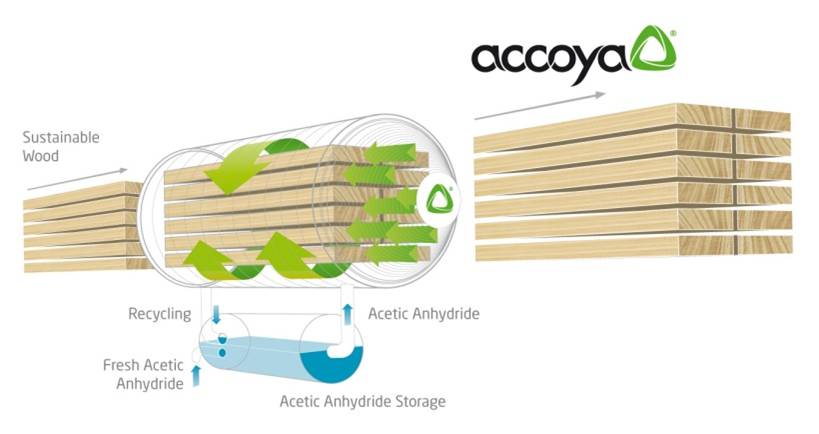 The technology behind Accoya is based on acetylation, a process that has been studied by scientists around the world for more than 75 years. Acetylation effectively changes the free hydroxyls within the wood into acetyl groups. When this happens the ability of the wood to absorb water is greatly reduced, rendering the wood more dimensionally stable and, because it is no longer digestible, extremely durable.
Typically, we use this material in external applications, including windows (of all kinds), doors and conservatories. There are some applications where Accoya is particularly well suited, including long runs of sliding, folding doors, projects where final quality is absolutely critical and highly exposed external applications. Gowercroft were among the first to embrace this timber over 5 years ago and are fully certified users under the Accoya© scheme.
The cones of this tree are serotinous, i.e. they remain closed until opened by the heat of a forest fire; the abundant seeds are then discharged to regenerate on the burned forest floor. The cones may also burst open in hot weather!
About Accoya
Formal name:
Pinus radiata or Radiata Pine. Chemical modification process transforms this timber into Accoya.
Growth to full maturity:
20-25 years
Location of growth:
New Zealand.
Estimated lifespan in external joinery application:
60 years+ Please note that this figure would be based on sensible coating cycles and good maintenance.
Quality of paint finish:
Exceptionally good, little grain visible