Double Glazed Timber Sash Windows - the Common, Derbyshire
Double glazed timber sash windows were a focal part of the renovation of this traditional Derbyshire home in Quarndon.
A Traditional Derbyshire Home ideal for Timber Sash Windows
We installed timber sash windows and replaced the doors and internal joinery during the renovation of this Derbyshire building.
The Common is a beautiful traditional family home in the village of Quarndon, near Allestree in Derby. It is an impressive structure, constructed from local sandstone with bay windows and an unusual wooden porch with two steeply pitched roofs.
When Mr Rodgers, the property owner, was planning to renovate his home, he looked for a company who could supply him with all the internal and external joinery. He chose Gowercroft for their range of products made from Accoya, and our reputation for high quality products and craftsmanship. Our numerous awards and nominations are testimony to the quality of our products, including winning the Build It Awards 2017 for best windows.
Mr Rodgers worked closely with our design team and decided that a traditional timber sliding sash window would be ideal for his property. He also had us commissioned us to replace all the architraves and trimmings inside the house to complete the traditional look of the renovation.
The Chatsworth Timber Sash Window
The Chatsworth Sliding Sash Window is one of our flagship products. It is very traditional in appearance, including horns and cross pieces to give the appearance of window from Victorian England. However, a host of incredibly modern features are built in to these windows. Invisible trickle ventilation, and hidden spiral balance systems built to the highest specification to give ease of use and longevity of service are all standard.
The windows are very efficient compared to both their Victorian forebears and contemporary versions. The seal between the two sections is the most effective on the market and has earned the product Class 4 Air Permeability rating – the only timber sash window available to have this rating.
The glass itself is available in double or triple glazing with A+ rated energy ratings, offering excellent levels of heat retention and soundproofing.
What is a Sliding Sash Window?
A sash window comprises of two panels or sashes that hold panes of glass. One of the panels will slide to open, usually vertically – horizontally sliding windows are known as "Yorkshire Lights".
Sash Windows are generally believed to be an English invention, the first examples being installed in 1670. The sliding sash is often associated with Victorian and Edwardian architecture and many suburban homes had them installed around this time.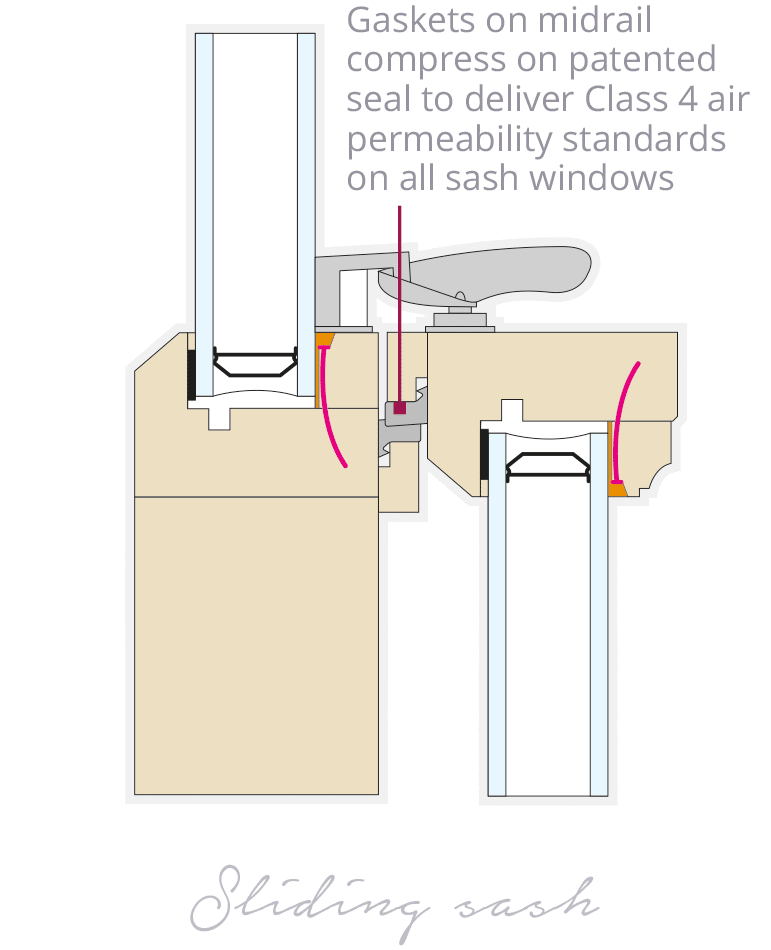 Cross section of the clasp on the Chatsworth Sliding Sash Window.
This image shows the locking mechanism on a sliding sash window. The seal is squeezed tight by the rotating clasp on the lower section increasing the efficiency of the unit.
The sashes work by moving in a slot in the outer frame of the window, and are balanced by a concealed weight to make opening a closing easier. There are many combinations of sashes, but the most common arrangement is to have the top window fixed while the bottom one opens upwards.
Sliding sash windows are unusual today and are generally used to complete the classic appearance to traditionally styled houses. They are also used as replacement windows in the renovation of Listed buildings – you can read more about our Heritage Windows here.
Accoya Timber
We use Accoya timber to manufacture our sliding sash windows. This is a modern, manufactured timber from sustainable sources. The chemical treatment process used to turn timber into Accoya means that the wood is incredibly strong and impervious to heat and water instability. The result is a material that has very little contraction or expansion throughout the seasons, allowing much more precise build specifications. This in turn improves the efficiency of the unit as a whole.
This inherent stability also reduces maintenance as the paint or coatings are put under less stress during the changing seasons and is less likely to crack and allow water ingress.
Handmade Sash Windows by Local Derbyshire Craftsmen
All our windows are hand made in our Derbyshire workshop to ensure that each unit is as near to perfection as possible. We have developed unique manufacturing and finishing processes to ensure that our windows are able to offer a very long and trouble free life. All our windows and doors come with a 10 year guarantee, although we expect all our products to last well in excess of this. A lifetime guarantee on all timber windows and doors is available through our TimbaCare scheme.
Please speak to a member of our team if you would like to know more about installing double glazed timber sash windows from Gowercroft.