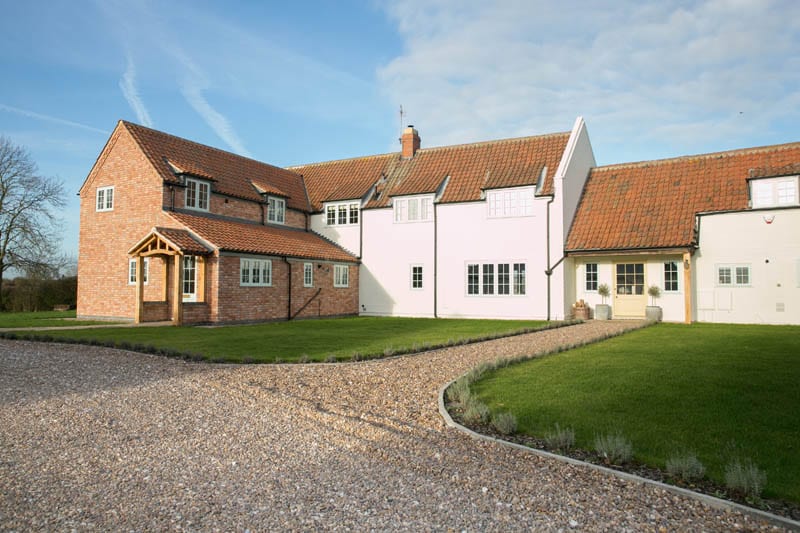 Replacement Timber Windows - White Cottage, Nottinghamshire
Replacement Timber Windows were the perfect addition to White Cottage in Nottinghamshire. The new owners were looking for replacement windows that offered a long service life with little maintenance and a good guarantee. They also felt it was important to have the windows made from sustainable timber. In the end, they were delighted with our Hardwick Flush Casement Windows, and the service they received from Gowercroft.
An unusual property for replacement windows
Gowercroft were approached to provide replacement timber windows for White Cottage in Plum Tree. This unusual and characterful is set in the Nottinghamshire countryside, only a few miles from our window manufacturing workshop in Derbyshire.
The L-shaped property, which originally comprised 3 small white cottages that had been knocked into one. A new brick-built extension was also added to create a single spacious family home. Owners Ginny Hallam and Jon Fryer needed space for their young family, and set about renovating the property, contacting Gowercroft for their replacement windows.
About Plum Tree, Nottingham
Plum Tree is a small village near Rushcliffe, to the South of Nottingham between the villages of Tollerton and Keyworth. Set in rural Nottinghamshire, it has a rich history, a church with Saxon foundations and boasts one of the top Cricket Clubs in Nottinghamshire. Find out more about Plum Tree
A sympathetic restoration
Ginny and Jon project managed all aspects of the renovation and extension themselves, lovingly restoring the original buildings in a way that would retain their distinctive styles and character.
As the existing wood-effect PVC-u windows were unsightly, Ginny and Jon looked for replacement timber windows. They wanted high quality sustainable timber windows and doors with a sympathetic, traditional appearance to complement the style of the buildings. The Gowercroft Classic range of Accoya windows and doors were the perfect choice.
What is Accoya®?
Accoya® is a modern timber made from sustainable sources. It goes through a treatment process that dramatically improves stability and the it's service life, making it the perfect material for high quality windows and doors. You can find out more about Accoya® in this post – What is Accoya® Timber – or you can visit the Accoya® Website here.
Hardwick Flush Casement Windows
Impressed by our craftmanship and bespoke manufacturing capability, the owners chose Gowercroft to supply 37 Hardwick Accoya flush casement windows with matching Accoya single and Accoya French doors, all coated with a low maintenance Duck-Egg blue finish to go with the white render and brickwork.
You can find out more about the Hardwick range of replacement timber windows here.
As the original elements of the property were all different in character, a wide range of window sizes were required, so our technical team worked out the astragal bar patterns to ensure that correct proportions and balance were maintained throughout.
Ginny and Jon were delighted with the outcome: "We wanted traditional hand-crafted timber windows and doors with high energy performance and a good guarantee. Gowercroft couldn't have been more helpful in supplying just what we wanted and making sure that their windows and doors worked perfectly with the various architectural elements of our home."
Replacement Timber Windows Gallery