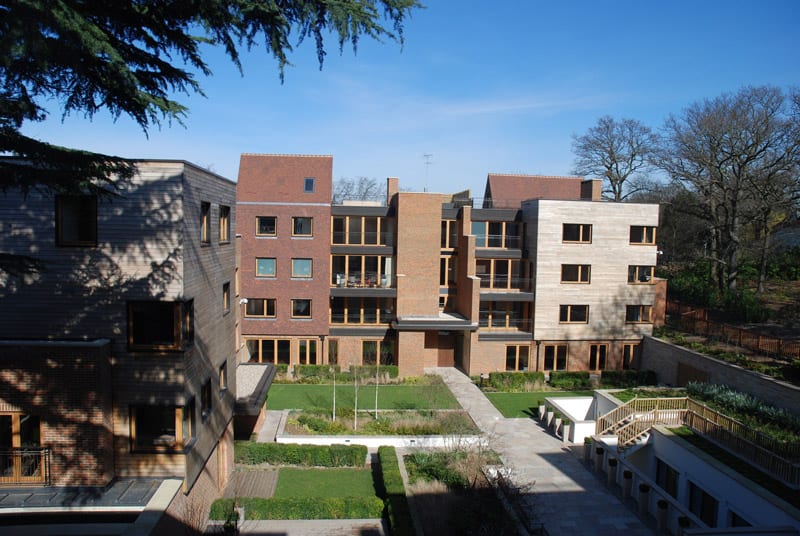 Tilt and turn windows and doors fitted to new build Highgate, London
A challenging tilt and turn windows and doors project in Highgate, London. Gowercroft showed how attention to detail can overcome seemingly impossible technical challenges.
Wooden windows and doors fit for a king!
Bishops Avenue in London is often referred to as 'Billionaires Row' because of the impressive amount of Kings, Sultans and Oligarchs who live there. Gowercroft were approached by property developers WillowAcre in 2006 to complete their new build project by supplying and fitting windows and sliding doors and all the internal and external joinery.
What are Tilt and Turn Windows?
Tilt and turn windows are very popular in continental Europe and are well suited to commercial and large residential buildings such as apartment blocks. They are hinged both vertically and horizontally. In one function they open like regular casement windows (horizontally). However when opened vertically they provide excellent ventilation and are totally secure as the angle of the aperture allows no access to the opening mechanism from the outside. Tilt and turn windows also feature multiple locking points when closed for additional security.
Technical Challenges involved with large Tilt and Turn Windows
The property had large sliding doors specified by the architect. The windows were due to be standard casement windows. We decided to recommend installing tilt and turn systems insead, as these would suit the style of the building better. However, as some of the window units would be over 2 metres high, the stress on the hinges and mechanisms was a challenge that needed to be overcome.
Gowercroft technical director David Brown undertook substantial research to find the best gearing to match the increased stresses that large units put on tilt and turn mechanisms. The frames would also need to be specially designed to work with the special gearing units.
Many companies products were tested, but Gowercroft's bespoke designed units proved to be the best in terms of functionality, aesthetics and projected length of life.
Watch Gowercroft Director, David Brown, discussing this project and the cost engineering processes that were used to deliver exceptional products on a sensible budget.
Installing the internal and external Joinery
The windows, doors and joinery was completed in tasteful American Black Walnut with bronze inlays and accessories.
There were a considerable amount of units to complete. The entire project took almost 2 years. In that time Gowercroft:
Made and fitted over 200 windows and doors
Installed internal door sets and architraves
Manufactured and installed staircases and rails
Built furniture including walk in wardrobes and mirror doors
Installed over 19 km of three part skirting boards
Perfectly Functional tilt and turn mechanisms for years to come
Completed in 2008, all the multifunction window and door units are still working perfectly and Gowercroft maintain a healthy relationship with WillowAcre.
We continue to maintain and service the tilt and turn windows at 49 Bishops Avenue to this day. This extends the life of the units even longer and eliminates the need for any maintenance by customers. You can find more information on Timba Care packages here.
Barry Glantz, WillowAcre Investments & Developments Ltd says of Gowercroft:

A company that goes the extra mile
We have been using Gowercroft for the past 8 years and have always found them to have a high standard of quality and professionalism, often lacking in British manufacturing companies. I would have no hesitation in recommending Gowercroft, a company that goes the extra mile and add value to any project.
---
The Kedleston range of Tilt and Turn Windows and doors
We call our line of tilt and turn windows the 'Kedleston Range'. You can read more about the range [here]. Don't hesitate to contact us if you would like more information or a quotation on the design and installation of tilt and turn windows.