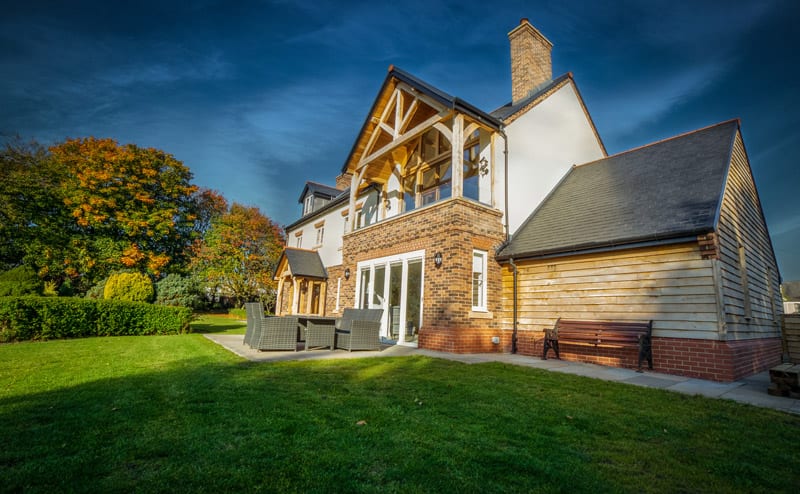 Traditional wooden casement windows fitted to a dream home
Wooden Double Glazed Casement Windows fitted to an inspirational new home in Hartlepool.
Southview – building a 'dream home'
Southview is a traditional detached five-bedroom, self-build, family home situated in a sensitive rural location near to Hartlepool, Co. Durham.
Located on the site of an existing outdated building, it is the dream home of Tony Fallows, who always wanted to design and build a sustainable house for his retirement with lots of space where he could entertain his large extended family.
Designed by PH Partnership Architects, the property consists of three floors with a light and spacious kitchen and family room for entertaining and a smaller snug-like lounge on the ground floor, which is used as a private retreat for relaxing. On the second and third floors are the guest bedrooms and a spacious double height master bedroom with exposed oak roof beams and an expansive glazed oak gable with double doors, which lead onto a balcony overlooking the grounds and the open countryside.
As the owner of a construction company, Tony project managed all aspects of the build, sourcing suppliers and handling the labour and installation in-house. This worked out perfectly for him as it did not affect his 10-year maintenance free guarantee period.
Traditional Casement Windows with Modern Performance
Given the sensitivity of the rural location, Tony was keen to use windows and doors made from high-quality sustainable timber and with a traditional aesthetic. Having seen the Gowercroft factory for himself, he was impressed with our manufacturing processes, environmental credentials and quality of materials.
Twenty-three highly energy-efficient traditionally styled Hardwick flush casement windows were ordered. Made from high grade sustainable wood, these classic Accoya windows were supplied with a low-maintenance subtle cream painted finish for added weather resistance.
Matching Wooden Doors
In addition, Gowercroft manufactured three single wood doors and an impressive set of large double doors with top lights for the master bedroom, which were made from Accoya stained in 'Grand Oak' to complement the exposed roof beams and gable.
A bespoke Accoya wood front door, also oak stained, was specially embellished with leaded glass and dental moulds to create an attractive entrance feature. The Gowercroft team managed to apply the moulds to the face of the door in a way that meant the door could be produced cost effectively using normal manufacturing processes.
Tony Fallows said:
Ticked Every Box
Although Southview isn't in a designated conservation area, we were still committed to building a traditional looking home that would be in keeping with our unspoilt surroundings. Sustainability, energy efficiency, low maintenance and craftsmanship were in the forefront of our minds when we chose Gowercroft, who ticked every box, impressing us with the quality of their workmanship throughout.
---
Wooden Casement Windows for your new build
Whether you are designing or building a new house or commercial property, our hardwood casement windows and doors are the perfect complement to any design. Call our team or read more about our Classic Range of Hardwick Casement Windows.