Fun in the Sun!
A charity clay pigeon shoot held at a country estate near Ripon in North Yorkshire has raised thousands of pounds for two good causes. Nearly 300 people making up more than 70 teams entered the contest at the 1,500-acre Azerley country estate, near Ripon, which was raising money for the Disabled Riders Group, of Follifoot Park in Harrogate, and the Child Development Centre at Harrogate District Hospital.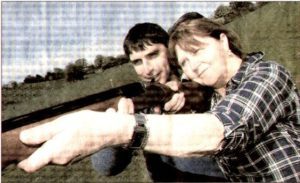 Gowercroft director and co-owner, David Brown was an instructor and participant on the day.
Team members shot at clays fired from six locations on the estate – including one stand at the top of the 80ft-high landmark Azerley Tower.
"We had an absolutely fantastic day and we were blessed with extremely good weather," said organiser and estate gamekeeper Kevin Birch. "I would like to say a huge thank you to all our helpers and the people who came and shot and enabled us to raise this sort of money."
Mr Birch said the total amount raised which will be split equally between the two good causes will be known in around a week's time when all the sponsorship and entry money is added up.
Other attractions on the day included an air rifle range set up by Pontefract Air Rifle Club, face-painting for children and a tombola.