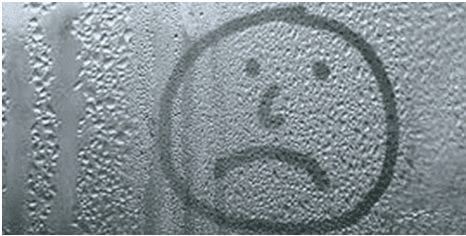 Condensation and Dew Point on Efficient Double Glazing
Reading Time: 3 minutes
Published on: December 16th, 2015
Read Now
---
Modern homes today are built so they don't waste energy, with increased levels of thermal insulation, efficient draft-proofing around doors and windows and the use of sealed units in place of single panes of glass.
In-turn this has reduced the amount of heat lost through the structure. However, the consequence of sealing efficiently is a reduction of natural/humid air and water vapour escaping, increasing the possibility of condensation.
What is it?
Condensation is a process where a reaction occurs between the temperature, air and water vapour. The air temperature surrounding an object falls below the dew point (the tipping point at which air cannot hold any more moisture) and changes into a liquid on a solid surface.
Air, at any temperature, can hold a certain amount of water vapour, the warmer the air, the more vapour it can hold. Condensation on a surface (glass for example) is the most familiar type. It can be seen on window panes and cold wall surfaces such as tiles. Waking up to surface condensation is a familiar sight, especially on a crisp morning and even with the advent of high efficiency double glazed units, still occurs:
On the external face of the unit – When the external temperature drops below the dew point. Recent improvements in the manufacture and design of double glazed units mean it's possible for condensation to occur on the outer pane of glass when humidity levels are high and the climate conditions cool. The outer pane of glass does not receive heat from the inside of the building. This can be seen as a positive indication the unit is thermally efficient and heat loss through the glass, minimal.
On the inner surfaces between the two panes of glass – Condensation on either surface between the two pieces of glass (the air gap), suggests the cavity sealing has been compromised. The unit requires replacing.
On the internal face – Within a building, air collects moisture from a variety of sources. For example, a single adult will produce around two litres of water vapour every day. Certain rooms, kitchens and bathrooms for example, have a higher risk of condensation on internal surfaces so controlling the level of internal moisture is very important within a household.
Ways to control internal condensation
Using energy efficient glass in a double glazed unit, restricts the heat exchanged across the air space, keeping the inner pane warm and reducing the likelihood of internal condensation.
Independently operating trickle ventilators within the window frame, will allow an amount of natural ventilation when the actual window or door is sealed closed.
Condensation is not normally a building fault. Recently altered or constructed homes may notice it forming on their new or existing windows. This is common as building materials such as plaster, cement, concrete and paint all contain high moisture levels which will can take up to a year to cure and evaporate completely.