Energy Efficient Double Glazed Sash Windows
Traditional Looks with Modern Performance
If you want to upgrade a traditional looking home that has sashed windows, then double glazed sash windows are the right choice. They are a great way to improve the energy efficiency of your home without compromising on the traditional aspects of the design.
There are many options available for double glazed sash windows – we look at the best choices and why upgrading is a good idea for your home and the environment.
The Benefits of Double Glazed Sash Windows
We think the optimum choice for double glazed sash windows is vacuum glass units with good quality timber frames – here's why:-
1 – Energy Efficient
The most obvious benefit of double glazed sashed windows is that they are more energy efficient. Of course, it depends on what you are upgrading from – but the chances are that if you are renewing your windows then old age and outdated technology will be making your current units inefficient.
Most window installations are over 20 years old, so the advances in technology in that time will mean that your new windows will show a significant improvement in their performance.
2 – Security
Again, older windows will have deteriorated and be easier for intruders to break in through. Modern units with toughened glass and stronger locks will help you sleep sounder at night knowing that your home is better protected.
3 – Ease of Maintenance
It's the window frames that need more maintenance than the double glazing units. By choosing to have frames made of modern treated timbers such as Accoya®, coated with a microporous paint then the windows will need hardly any attention at all over their extended life span
New sash windows will be much easier to operate and the mechanisms will be newer. More than that improvements in the cord and pulley system will give the windows a longer life.
4 – Better for the environment – and cheaper!
Timber frames from sustainable sources with more energy efficient glazing is much better for the environment. Plastic window frames may be cheaper – but they cause damage to the planet and, because they don't last nearly as long as good quality wooden frames they ultimately end up costing you more money.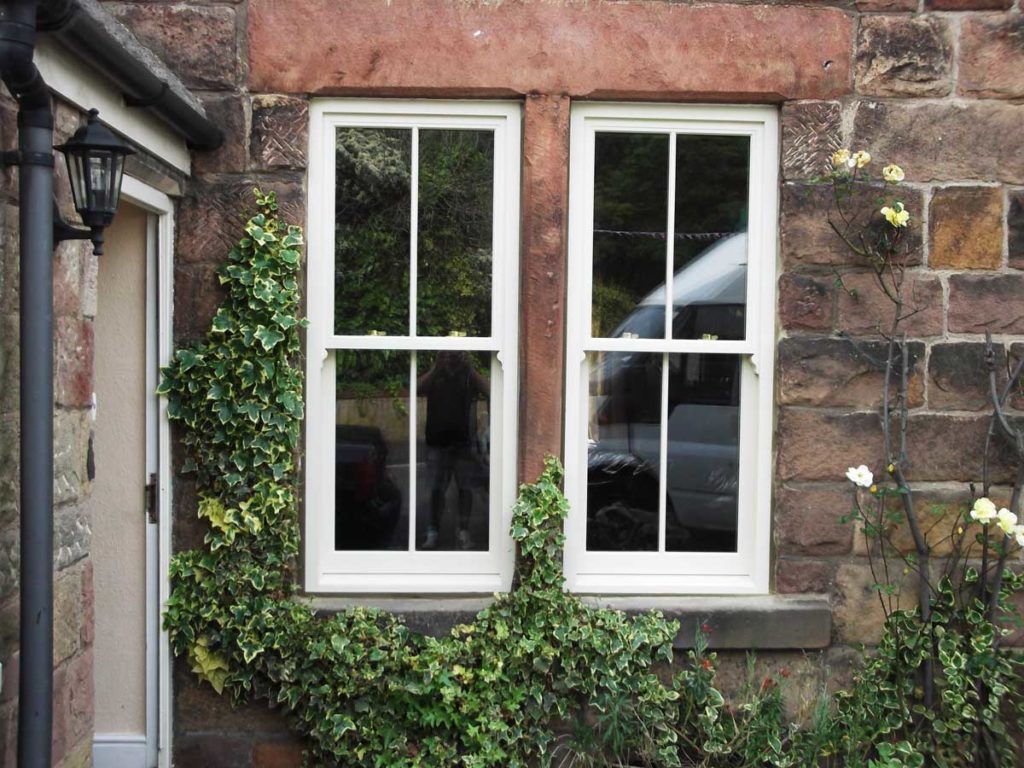 How the system works
Vacuum Glazing
We think vacuum glass is the best option for the glazing – here's why:
1 – More Efficient
The vacuum in the cavity makes the windows much better at insulating your home. Heat and sound can't cross a vacuum so heat egress is greatly reduced and rooms are quieter too.
2 – Better looking
Because the windows have a vacuum cavity rather than a gas filled cavity, they can be extremely narrow.
In a standard double glazed unit, the cavity is filled with a noble gas such as Argon. These gasses are denser than air, so heat and sound don't travel across the cavity as easily. The more gas, the higher the efficiency. This means that the cavity in a standard unit is quite large.
In a vacuum insulated unit there is nothing in the cavity. No matter how wide the cavity, there is still the same amount of nothing (zero x anything is still zero!) so the cavity can be very small and still be just as effective. Most vacuum units have a cavity of 0.6mm. This means that the units look very much like single glazed windows and don't have all of the ugly inner frames showing, making them ideal for Heritage Windows.
Timber Frames
Timber frames made from modern treated timbers such as Accoya® and Red Grandis are better for the environment than uPVC windows. In some cases timber frames have a positive impact on the environment – see our extensive study. This is because forests transform CO2 into Oxygen, whereas the extraction and manufacturing processes of plastic and aluminium creates pollution and relies on materials from a finite source – oil and bauxite.
These treated timbers are better insulators too – especially when manufactured, assembled and fitted correctly by expert craftsmen (hey, Gowercroft team!). They also last much longer than other frames – sometimes as long as 70 years. This long life span is due to the wood's resistance to water and extraction/contraction due to temperature changes. This is turn causes less damage to the paint or varnish coatings – paint becomes more brittle over time and cracks appear when the wood grows and shrinks as it heats up and cools down. The cracks in the paint allow water into the wood and the frame begins to rot. Add a few jolly English winters into this cycle and the decay accelerates. Modern timbers are impervious to these effects, especially when combined with a microporous paint and give many years of maintenance free service.
What is the cost of double glazed sash windows?
Double glazed sash windows are quite a special requirement, so inevitably they will cost more than standard uPCV casement units.
Yes, the materials are more expensive than your run of the mill windows, and the manufacturing process is more costly too – but wait! Because we expect a good quality unit to last at least twice as long as other windows, therefore won't need replacing for many years so there is the potential to save a lot of money 20 odd years down the line.
Conclusion
Hopefully you can now see that you can save money, have a warmer, quieter house that is better for the environment when you choose good quality double glazed sash windows.