Commercial Heritage Windows for a Traditional Derby Shop Front
Giorgio Reggiani – Sadlergate, Derby
In 2011, Derby County Council made available funds for regeneration of traditional shop-fronts in Derby city centre. The owner of Giorgio Reggiani, a local retail shop with a focus on high quality men's clothing, took the opportunity to revamp his premises.
Gowercroft Ltd. were contacted by the architect chosen for the project, Mike Wood from ADDC Architects. He had a vision for a shop-front that exuded the class and quality of the products sold inside. We worked closely with Mike to develop a plan that met those criteria, while also being practical and acceptable in the County Council's charter.
The Challenges with Commercial Heritage Windows
The project presented two major challenges; meeting the council's exacting requirements and delivering the whole project within 2 weeks. The nature of the project and public health and safety concerns meant closing the shop during installation. The shop owner was obviously keen to minimise closure, so we built the shop-front entirely within our workshop prior to removal of the old unit.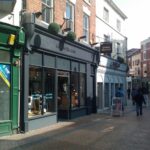 When the shop-front was built to specification and ready for installation; our fitting teams went to site, removed the existing shop-front, and installed enough of the new unit to provide security for the location overnight – all in a single (rather extended) day. With the security issues now sorted, our teams spent the next nine business days glazing, tiling, re-fixing the shutters, fitting a heavy cast-iron gate and signage, leading the overhang area and painting.
Despite needing to replace a piece of glass after it was broken by vandals; the project was completed on time and to exacting specification. This was, in no small measure, thanks to the hard work of our teams, our sub-contractors and the expertise of Mike Wood, the architect. The shop re-opened on schedule, 2 weeks after initial demolition began.
"ADDC Architects required particularly high standards of joinery fabrication doing justice to the traditional joinery detailing involved. Gowercroft were able to deal well, not only with intricate joinery aspects, but also with wider renovation and integrated construction work for which they were responsible. Despite the bespoke nature of the projects, Gowercroft's craftsmen were able to marshal resources, technical competence and enthusiasm to ensure the projects were delivered on time and within budget."
Mike Wood – Conservation Architect and Director, ADDC Architects
Gowercroft Joinery has completed a number of shop-fronts throughout the years. We pride ourselves on providing excellent results to deadline. Our knowledge and experience allows us to flag potential issues in advance and offer technical solutions. Avoiding these pitfalls keeps your price down and the timeline secure.
For a no-obligation quote or just a discussion with a experienced joiner, call us today 01773 300510.