National Recognition for our Joinery Apprentice Manager Simon
Alfreton based Gowercroft Joinery is being recognised by the British Woodworking Federation (BWF) as a champion of National Apprentice Week (March 4th – 8th) thanks to its successful apprentice programme.
The specialist high end timber window and door manufacturer has seen many apprentices pass through its hands over the years, with some rising to senior positions with the company and even winning national awards.
Simon Gayton, manager of the workshop floor at Gowercroft, started his career as an apprentice in 1990 and is now helping today's apprentices, such as 20-year old Brad Shirley start their careers. Here they tell their stories.
A different path to management
Sharing his pathway to his current role, Simon said, "After leaving school, what I really wanted was to get a job that would bring in money and be the start of my career – and my woodworking apprenticeship has definitely delivered. My apprenticeship was at a pine furniture manufacturing company and since then I've gained experience and had opportunities as a joiner, cabinet and furniture maker, and now as Production Manager for a high quality window and door manufacturer."
Progressing up through the company and taking on more responsibility for problem solving, Simon believes that his ability to quickly identify the source of problems and resolve them is due to the beginning of his career.
"The hands-on nature of the apprenticeship means that you very quickly learn and develop a detailed knowledge of timber, which means that you can breakdown and understand a challenge, and importantly, solve it," he adds.
Simon is now responsible for managing a team of supervisors, 30 employees and is currently overseeing a machinery upgrade worth more than £350,000 at Gowercroft Joinery, a BWF member at the forefront of innovation within the joinery sector.
Explaining why he chose a career in the woodworking industry, Simon said, "I enjoy working with a material that is real and provides different challenges every day – it keeps you on your toes and makes each day different and interesting."
Encouraging the next generation
Taking on an essential role within Gowercroft Joinery, Simon also supports the company's current apprentices and maintains relationships with local schools and colleges to encourage the next generation into the woodworking sector. The company currently employs two apprentices and supports their development for three years in partnership with local colleges.
A third-year apprentice at Gowercroft Joinery, Brad Shirley explained why he chose an apprenticeship, "One of my favourite GCSEs was in Product Design, so I wanted to get into a career where I could design and make products. Before looking for an apprenticeship I started doing A-Levels because I didn't think that there would be any businesses local to me offering a woodworking apprenticeship – but my college helped me find Gowercroft Joinery and its only five minutes from my home!"
When he completes his apprenticeship in a year's time, Brad hopes to continue his career as a bench joiner before moving into site joinery. Brad added, "Through my apprenticeship I learn something new every day, and from when I first started shadowing joiners, through to now and two years in, I enjoy my job every day – sometimes it even feels like a hobby."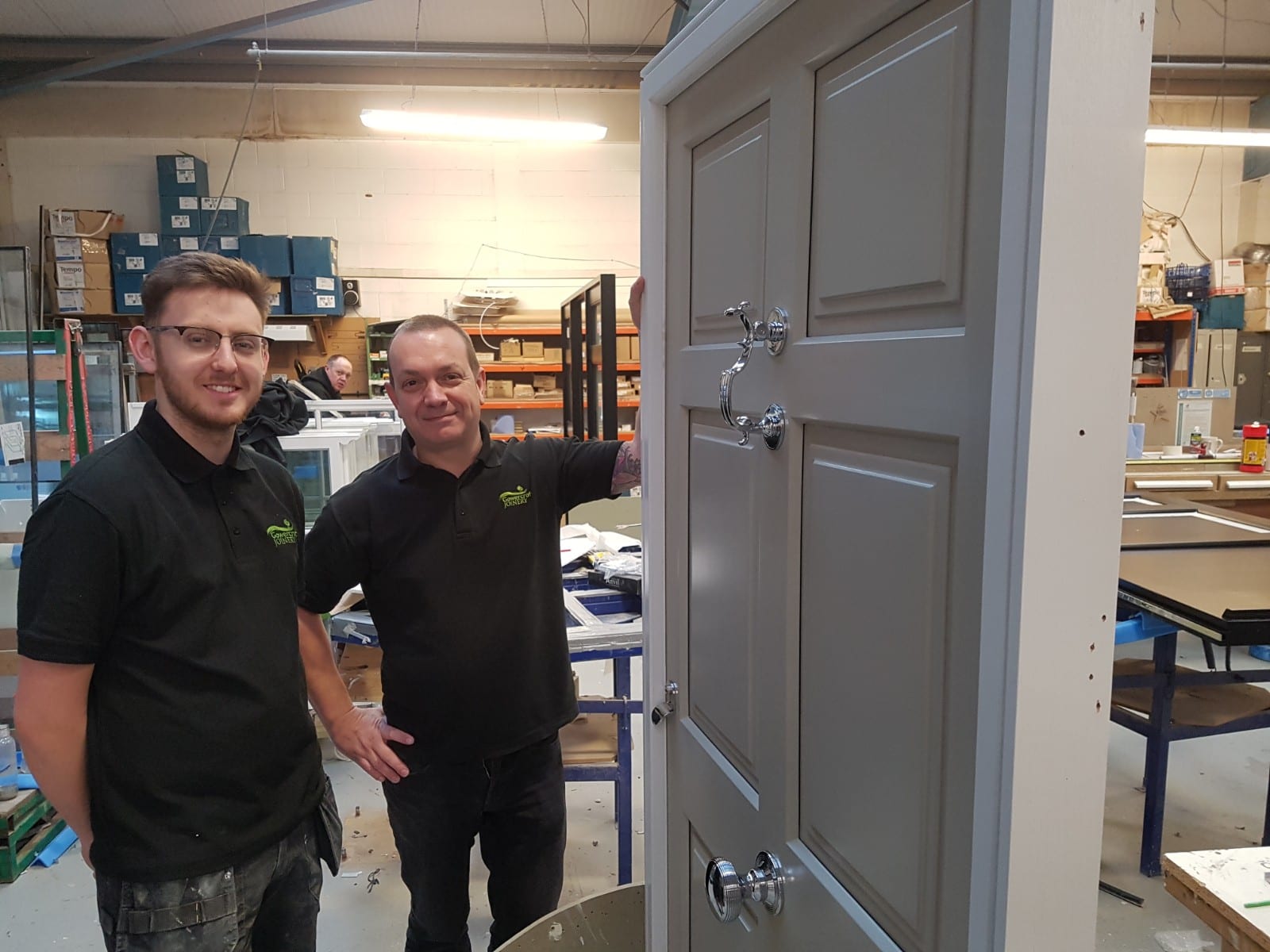 Simon Gayton, woodworking apprentice
For the future apprentices
Apprenticeships are vital to the woodworking sector and provide a route in to a diverse and passionate industry. Discussing the benefits of apprenticeships, Simon added, "Through the apprenticeship you see the students develop in confidence and skills, and not only in work – they look to how they can use their skills at home, and you can see the passion for the woodworking craft really shine through."
Brad initially found it challenging to find an apprenticeship, but after support from his local college, he found the right company for him. For students looking to start an apprenticeship he offers this advice: "Choosing an apprenticeship is not just a year-long placement, it's three years where you're learning at college and on the job to get important qualifications so don't just go for the first one you find. Find the right fit for you, the people at Gowercroft are supportive and fun to be around, and the projects that we work on are varied – so it's the right environment for me."
This is just one story from a British Woodworking Federation (BWF) member sharing how an apprenticeship is a stepping stone into a long and successful career. Woodworking is an extremely diverse and talented sector with design, production and management roles, as well as office-based marketing and sales roles, so it's unsurprising that the sector has one of the highest ratios of apprentices in the economy.
Helen Hewitt, CEO of the BWF said, "Our members lead the way and offer leading apprenticeship schemes that support the development of the next generation of talented woodworkers. Firms such as Gowercroft Joinery are essential in the growth and progression of our sector, and it's great Simon and Brad's passion for the industry and apprenticeships can help today's students on their journey into our enthusiastic and skilled sector."
Andrew Madge, MD of Gowercroft Joinery said: "As a local company rooted in Derbyshire for the whole of its 20-year history, Gowercroft is committed to investment in the local economy through its programme of apprentices and we are delighted that one of our many talented trainees even won the 'Apprentice of the Year' prize in the 2017 BWF awards."
For more information about how get started on an apprenticeship scheme in the woodworking industry or to find out how to take on an apprentice visit www.wowimadethat.co.uk