What are the requirements for Passive House Windows?
If you are looking for passive house windows for your new build or renovation project, what exactly do you need to meet passive house certification requirements? In this blog we will look at what it takes to find the perfect passive house windows.
What does Passive House mean?
"Passive House" or "Passivhaus" is a term originating in Germany. It is used for buildings that meet high standards in energy efficiency. They use super-efficient insulation in every aspect of the building, including the roof, walls and windows. They use sustainable energy sources such as solar and heat exchangers for heat and power.
One of the most notable features of a passive house is that the air tight design. The air inside is cycled using the heat exchangers to keep the temperature inside consistent. Passive houses in temperate climates usually don't have central heating or need air conditioning – the system is very good at keeping the rooms at a pleasant temperature. The design also factors in the heat given off by appliances and even occupants and uses every available source of energy to maintain consistent temperatures.
Passive houses generally give heating and cooling energy savings of 90% over a standard building and can be up to 75% more efficient than an average new build.
Visit the Passive House Institute website here.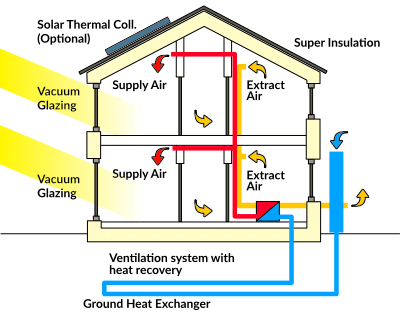 What are passive house windows?
Windows need to meet the stringent requirements of the Passive House Institute to become Passive House certified. The position of the windows is also taken into consideration. They need to be placed to allow the most natural sunlight to enter the house.
How do windows qualify to be used in a passive house project?
Passive house windows need to be very efficient – as a rule they need to be twice as efficient at standard windows. The energy efficiency of passive house windows is measured by the U-Value. The U-Value is a measure of the thermal efficiency – how well heat is transferred. For windows to be Passive House certified they need to have a U-Value of less than 0.8 W/(m2K).
How do passive house windows work?
Passive house windows use either triple glazing or super-efficient double glazing. The glass and materials used to make the frames must have low thermal conductivity. Specially coated glass is used, and the cavity between the glass is filled with a gas with low conductivity such as argon.
Recently, vacuum glazing has been used in passive house projects as the units are more efficient and better looking due to the slimmer profile. You can read more about vacuum glazing in this article…
Where can you buy Passive House Windows?
Most Passive House windows prioritise the performance of the window above everything else, in many cases they are resource heavy or use potentially dangerous insulation materials in their production. The Frontier Range of windows and doors by Gowercroft surpass the standard expected of a Passive House window, but with traditional aesthetics and good materials health qualities. Built using LandVac super-efficient, ultra-thin vacuum glass and frames made from FSC-Certified Accoya® they are both ultra-efficient and environmentally friendly. You can check out the Frontier range of passive house windows here. If you want to learn more about the sustainability credentials of these windows, Gowercroft have carried out detailed Life Cycle Assessment using the LINA tool and details can be found here in tour sustainable windows study. Our timber windows have also passed the British Standards weather proofing tests to a very high standard – you can read more here.