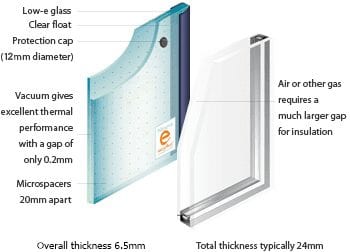 Conventional double glazing consists of two glass panes placed up to 20mm apart, with the cavity between the panes filled with either dry air or an inert gas such as Argon or Krypton. This gas reduces heat transfer through the glass due to its lower thermal conductivity. As a rule, the wider the gap between the panes, the lower the heat transfer; but this only applies up to an optimum level, above which circulation patterns in the gas reduce the benefit. Pilkington Spacia ™ is different
In Pilkington Spacia ™, the air between the two panes of glass is extracted, creating a vacuum. It offers the same thermal performance as conventional double glazing in one quarter of the thickness and two thirds of the weight. This is the first commercially available vacuum cavity unit on the market.
A vacuum, even a small one, is much more effective at minimising conduction and convection heat losses than air or inert gases, so the gap between the two panes can be reduced to just 0.2 mm, giving an overall thickness of just over 6 mm. Heat flow through radiation is limited through one of the glass panes having a low-emissivity coating, similar to that used in modern conventional double glazing.
It was developed in Japan as a way of providing high energy efficiency ratings, but with reduced overall glass content per square metre. The purpose of this was to reduce the overall weight of glass in areas where Earthquakes were prevalent, as this was expected to improve the safety of the buildings.
U.K. Usage of Pilkington Spacia ™
In the U.K. Pilkington Spacia ™ has been marketed mainly into the heritage market because it offers low overall thickness (6.5mm overall); this ultra-thin profile means that there is no double reflection in the unit and no requirement to have thick window frames, both of which are often key criteria of a conservation officer. Further to this, the weld-seal around the edge reduces the upstand and allows the Pilkington Spacia ™ unit to fit within a typical heritage upstand.
While the overall market for Pilkington Spacia ™ in the U.K. is relatively small, this product is at the early adopter stage and will see huge growth in the coming years. It offers exceptional energy efficiency, good acoustic performance (to plagiarise from a well known sci-fi film: "in space, no one can hear you scream!") and exceptional guarantees which are currently 10-years.
Gowercroft's Winston and Richmond window ranges
When our product design team came across Pilkington Spacia ™ in 2014, we had been looking for a replacement for ineffective slim double glazed units for many years, so we thought Pilkington Spacia ™ was worth further exploration. After completing a major project in Richmond, London using hundreds of these units, we were sold. We set about to combine the Pilkington Spacia ™ units with other innovative materials to deliver a window range that delivered exceptional heritage appearance, market leading guarantees (for any window, not just heritage products) and impressive energy efficiency and sustainability performance. To read more about the products we created, click the links below:
The Richmond heritage flush casement window
The Winston heritage sliding sash window
If you have an upcoming project and would like further information, an onsite demonstration of the product or a full tour of our Derbyshire workshop, then call us today!