Slim double glazing in heritage windows may be revolutionary, but it's not without it's problems
Gowercroft Director Andrew Madge discusses the problem with slim double glazing units for heritage windows, and puts forward a viable alternative.
What is Slim Double Glazing?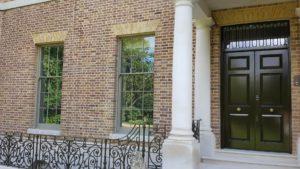 Slim Double glazing is defined as any glass unit with an overall thickness of 14mm or less. The most common build up is to have two 4mm pieces of glass with a 4mm cavity separating the panes. This type of slim double glazing is often the compromise solution for heritage and listed buildings where replacement of windows is required. The conservation officer on the project wants to maintain the character of the building by minimising the double reflection from the glass and the client wants to minimise the ongoing energy and maintenance costs, so this seems like a sensible compromise. Unfortunately this is not a good solution.
What is the problem with Slim Double Glazing?
All IGUs placed on the European Market (including the UK) must, under the Construction Products Regulations, be manufactured in accordance with all parts (1 to 6) of EN 1279, the harmonised European Standard for all Insulating glass units (IGUs). The primary requirements of EN 1279 to demonstrate durability of the IGU, to provide a reasonable service life are:
Testing to EN 1279 part 2 – Long term test method and requirements for moisture penetration
Testing to EN 1279 part 3 – Long term test method and requirement for gas leakage rate and for gas concentration tolerances
The majority of manufacturers producing these slim double glazing units are using a 'warm edge' spacer bar with a height of 3mm and although the manufacturers of this spacer bar are unable to pass the required test with a sealant depth over the spacer bar of 5mm or more, making an overall sightline height of between 8 to 10mm, many manufacturers of these slim double glazing units reduce this sealant depth to 2mm to achieve the desired 5mm sightline.
Slim double glazing units with 5mm sightlines are specified by a number of local authorities to give a reduced visibility of the spacer bar, therefore giving more of a single glazed appearance, and to enable narrow pass-through glazing bars in multi-pane items. The problem with this is that the reduction of this sealant depth seriously affects the IGU's ability to resist moisture penetration and gas loss which in turn results in premature IGU failure.
Slim unit manufacturers are skirting the rules and causing real problems down the supply chain:
They will offer extended guarantees on their glass (between 5 and 10 years), but do not stipulate that this is based on an 8-10mm sightline. Architects and conservation officers will see this promise and specify these units on their projects, while at the same time stipulating that the pass through glazing bars are 20-22mm across.
In a number of cases, the certificates provided by the unit manufacturers will say that their units have been tested to Part 2 and Part 3 of EN 1279; however, these tests were carried out on standard double glazed units with a sensible sightline and not on reduced sightline narrow cavity unit. The glass unit manufacturer then neglects to clarify this position.
Both of the above situations above create serious implications for the window manufacturer. Firstly, it is not possible with the 8-10mm sightline to create a 20-22mm pass through bar. Secondly, the products manufactured with the reduced sightline cannot be guaranteed to the pre-promised period of time. This leaves the window manufacturer in a position where they have to battle the conservation officer and project architect to break the slim double glazing specification or to back away from the project and lose the work. Ultimately, it is the client who suffers.
Further to the potential issues of slim double glazing units breaking down in service, the reduced sightline also causes increased rate of gas dissipation from the cavity. Obviously this means that the performance of the slim double glazing and therefore, the window as a whole, decreases substantially very early in its life. If you want to do further reading on the gas retention rates of slim double glazed units and the negative effect it will have on their performance, then I would recommend reading Double Glazing In Listed Buildings; Research report 2: Thermal performance Report commissioned by Changeworks on behalf of Historic Scotland, March 2010. This report demonstrates that these units are designed for aesthetics and not for performance.
UPDATE: The Glass and Glazing Federation (GGF) have now released a formal statement about slim double glazing with reduced sightlines. They are actively pursuing one supplier through trading standards and have promised to strike off any supplier offering these units from membership of their federation.
What is the alternative?
Gowercroft are well known for our exceptional work on heritage and listed buildings, so we are frequently asked to manufacture high quality windows with slim double glazing; however, it does not fit within our ethics to provide a product which we know will not perform. This leaves us with a dilemma; turn away a good customer, or sell them a product with slim double glazing which we knew was inadequate.
We scoured the market and found the LandVac™ vacuum glazing product. After completing a major project in Richmond, London using hundreds of these units, we were sold. We set about to combine the LandVac™ units with other innovative materials to deliver a window range that delivered exceptional heritage appearance, market leading guarantees (for any window, not just heritage products) and impressive energy efficiency and sustainability performance. A photo of one of our successful projects using LandVac™ is shown in the featured image on this page. To read more about the products we created, click the links below:
The Richmond heritage flush casement window
The Winston heritage sliding sash window
These products will revolutionise the heritage window market and were winners of the Build It Awards "Best Windows" for 2017.
If you have an upcoming project and would like further information, an onsite demonstration of the product or a full tour of our Derbyshire workshop, then call us today!
Read more about Heritage Windows in our comprehensive Guide to Replacing Windows in Listed Buildings