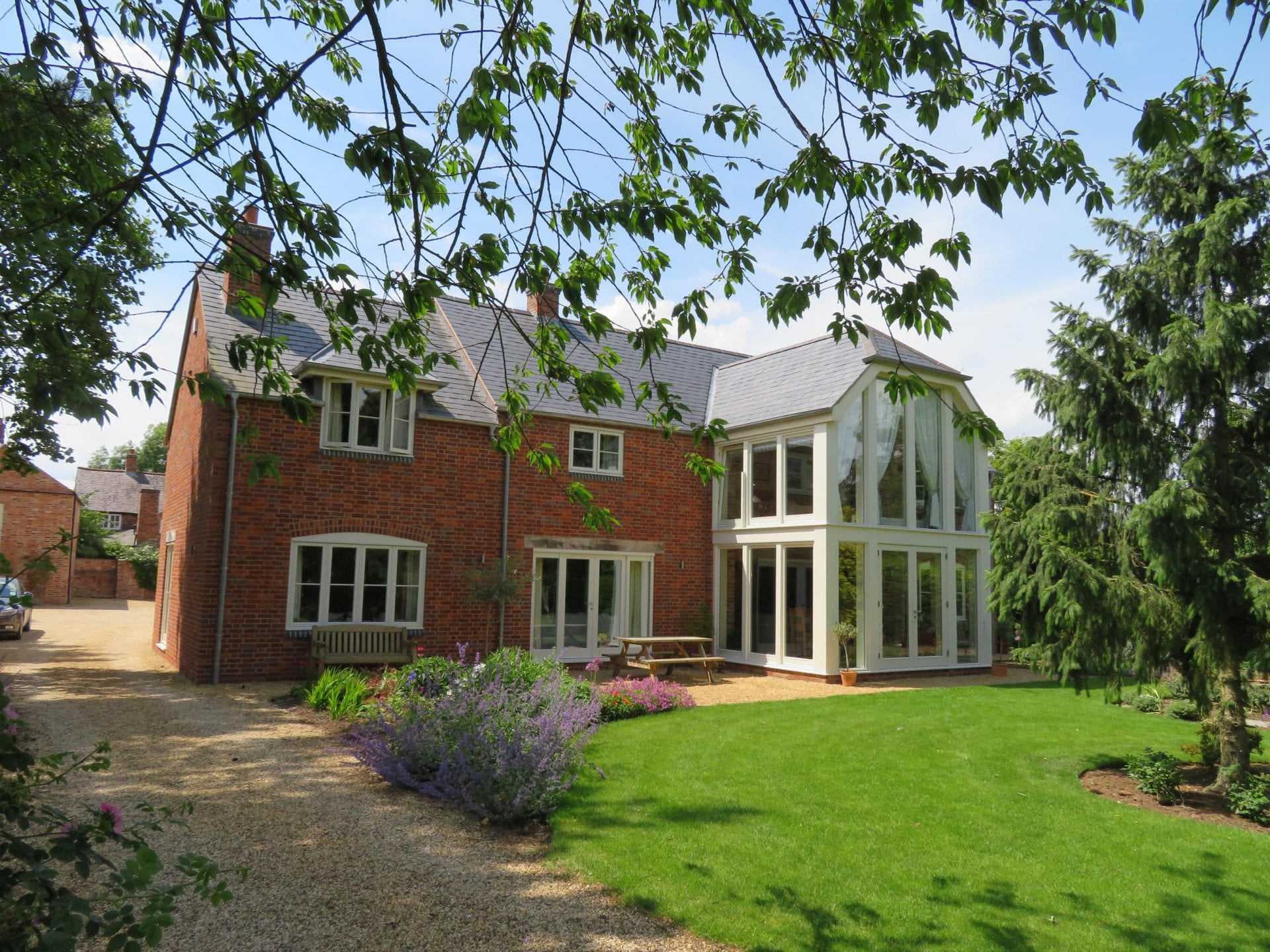 Self Build Windows Leicestershire
Reading Time: 3 minutes
Published on: February 9th, 2018
Read Now
---
Sympathetic Glazing for an Award-Winning Self Build Project in Leicestershire
In 2014 Gowercroft was invited to supply bespoke windows and doors for Down House, a beautiful four bedroomed self build family home situated in the grounds of a Grade II listed Georgian farmhouse dating back to 1733.
Designed and built by owners David and Sue Lockwood over a period of two years, the project closely followed the footprint of an original pre-1800s property on the site, whilst incorporating the restoration of a Victorian (c.1860) milking parlour.
Being situated in a conservation area, every care was taken to ensure that both restored and self build elements of the scheme blended seamlessly into its rural environment, the surrounding village and the Leicestershire countryside.
The front of the house, which faces the old farm has a traditional rustic look, whereas the rear of the property, which overlooks the garden and paddock, incorporates an spectacular expanse of open modern glazing to let in as much light as possible.
Where possible, existing materials were reused, such as some of the original bricks and roof trusses, which were reinforced with a steel framework, and like-for-like rural clay pantiles. Traditional wood replacement doors, and windows were specially commissioned from Gowercroft Joinery to be in keeping with its historic agricultural character.
"We chose Gowercroft for the exceptional quality of their detailed joinery and their ability to handle the extremely bespoke and occasionally non standard approaches required by the unusual nature of the project. Meticulous in their attention to detail, nothing was too much trouble for the Gowercroft team," said David Lockwood.
Gowercroft hand crafted a total of 14 flush casements, plus five external single doors and three double doors made from Sapele hardwood, plus three large screens for the rear of the property.
Specific requests included grooving at the bottom of each of the casement windows, so that natural slate sills could be accepted to cloak the brick buttresses below. Over the top of the windows, the steel structure was faced with oak in order to give the appearance of the traditional lintels you would see on old rural barns in South Leicestershire.
At the rear of the property, the structural steel work was also clad with timber to create a spectacular glazed atrium incorporating three large double storey screens complete with flush casements.
"We are pleased with the unique character and craftsmanship of Down House, which was made possible by the talented and dedicated tradesmen and high quality materials that we used throughout.  Gowercroft Joinery were an integral part of our team, contributing greatly to the build overall quality," said David.
Down House has been widely recognised as an exceptionally detailed and high specification self build cum restoration project, which deservedly won the 2016 Leicestershire Joint Consultative Committee for the Building Industry (LJCC) Merit Awards for Craftsmanship for its outstanding craftsmanship.
It was also featured in Build It magazine in late-2017, as an example to other potential self-builders of how to deliver an exceptional project.