Which Heritage Windows have the best insulation?
Listed buildings are those buildings and structures that have been listed or identified as nationally important by the UK government. They are preserved for their architectural and historic significance. However, many listed buildings are poorly insulated and as a result suffer from high energy bills. In this blog post, we are going to explore the best type of windows for Listed buildings and also provide you with some simple tips on how you can reduce your energy bills.
What is a Listed Building?
A Listed building is a building that has been placed on the Statutory List of Buildings of Special Architectural or Historic Interest. The criteria for listing is set out in Section 66 of the Planning (Listed Buildings and Conservation Areas) Act 1990. A building must be of special architectural or historic interest to be listed. This includes buildings that are architecturally significant, or which have close historical associations.
There are three grades of listing:
Grade I – these are buildings of exceptional interest
Grade II* – these are particularly important buildings of more than special interest
Grade II – these are buildings of special interest
Listed buildings range from cathedrals and castles to milestones and telephone boxes. About half a million buildings in England are listed. Heritage windows must meet strict requirements to be considered for use in Listed buildings.
To find out if your property is a Listed Building, visit the English Heritage website here.
What are Heritage Windows?
Heritage windows are designed to replicate the style of traditional timber windows whilst providing the benefits of modern double glazing. This means that they are more thermally efficient and require less maintenance than the original windows while staying in keeping with the nature of the building.
If you live in a Listed building, it is important to get permission from your local authority before you install new heritage windows. This is because listed buildings have special protections in place to preserve their historical character.
The Window Frames
There are several different options when it comes to Heritage Windows. It is important to fit the windows closest to the style of the original building.
The options include:
Timber – the most likely to look authentic and pass building regulations
Aluminium – only suitable if the original windows were Aluminium or steel
Steel – only suitable if the original windows were Aluminium or steel
uPVC – windows that attempt to replicate original timber windows
Timber windows made from modern woods such as Accoya® are an excellent choice. They have great insulation properties and will last much longer than other timber types (or uPVC). They also look more authentic and have a feel of quality about them that plastic just does not have.
Window Style
You must also choose the style of window that the building originally had. These options include:
Sash Windows
Sash windows are a type of window that is traditionally found in older homes. They are composed of two parts, called sashes, that slide up and down to open and close the window. Sash windows are typically made of wood, but they can also be made of vinyl or composite materials.
Sash windows can be quite large, and contain pulleys, balances and weights to make lifting the sash easier. These complex mechanisms are usually hidden in the frame.
While most sash windows open vertically – you lift the bottom frame – there is a variation that opens horizontally. These are called Yorkshire Sash Windows and are mostly found on cottages and smaller farmhouses.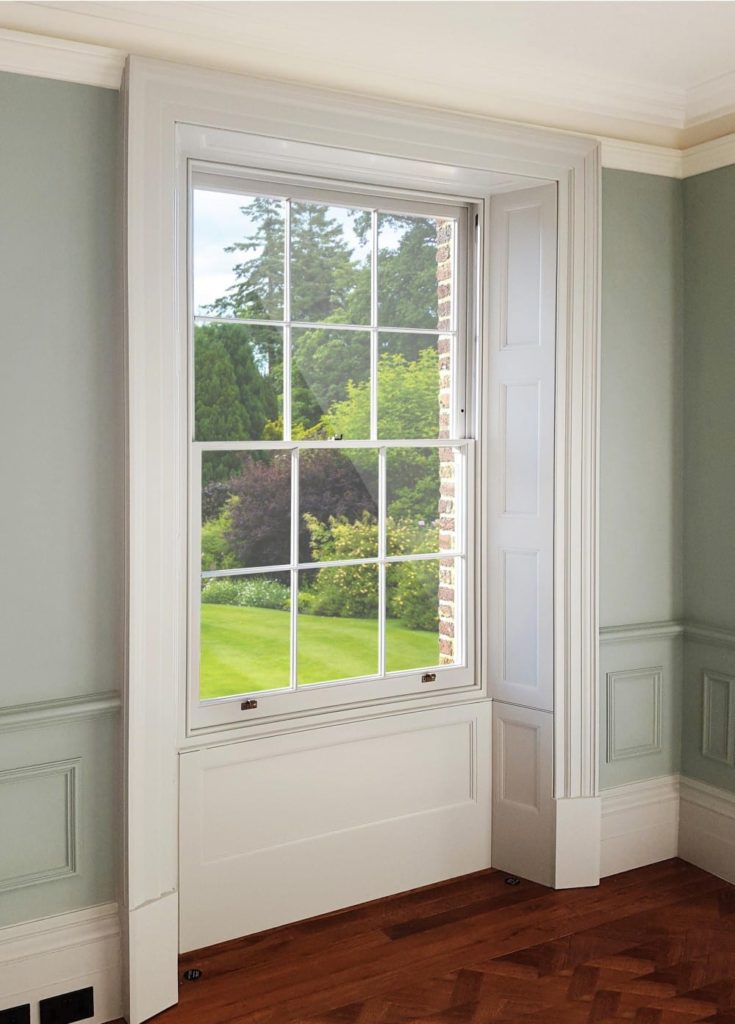 Heritage Sliding Sash Windows
The Winston Heritage Sliding Sash Windows are perfect for renovating listed buildings.
Casement Windows
Casement windows are another type of window that is often used in Listed buildings. Casement windows open outward like a door with simple hinges and catches, and they can be operated by a crank or lever. Like sash windows, casement windows can be made from different materials, including wood, uPVC, Aluminium or steel.
The Glazing
Because of the nature of Heritage Windows, the options for the glass are more limited. The main problem is that most listed buildings will have been fitted with single-glazed windows. Local planning authorities will require you to install windows that are as close to the original items as possible. However, most homeowners these days want to enjoy the benefits of warmer rooms and lower bills that modern double-glazed windows offer.
In order to replicate a single-glazed window, double-glazing must be as narrow as possible. Standard double-glazed windows have a cavity width of anything between 16mm – 26mm. This makes it unsuitable for heritage windows for two reasons:
you can see all the unsightly inner framework – called sightlines.
you get a double reflection, changing the look of the property from the street.
This means that standard double-glazed window won't pass the building inspector's criteria, even if the frame and style are correct.
So what are the options?
Slim Double Glazing
Slim double glazing is, as the name suggests, a much thinner version of the standard units. This style of glazing can be authorised to be used in a heritage project, but it's not without its problems.
The seals and desiccant used in forming the units are often significantly reduced to ensure a small sightline, which is typically required to get the aesthetic correct for Heritage windows. However, the problem is that the seal becomes less resilient and there is less desiccant available to prevent condensation in the unit – this leads to a much higher breakdown rate and very limited lifespans of products. The Glass and Glazing Federation discourages the use of Slim Double Glazing and is actively pursuing some manufacturers through the courts for breaches of trading standards regulation.
Vacuum Glazing
Vacuum glazing is a new form of double glazing developed for use in earthquake regions in Japan. It has a very narrow cavity – less than 1mm – that is a vacuum, rather than being filled with Nobel gases as in most other glass units.
Vacuum glazing is a good choice for heritage windows because of its incredible thermal efficiency, its very high acoustic performance, and its ultra slim profile. Vacuum glazing is being used more and more in heritage windows because of its ability to tick all of the boxes for the homeowner and the conservation officers.
The best-insulated heritage window are….?
We think that the best insulated heritage windows are definitely timber frames made from Accoya® with Vacuum insulated glass. These units are the best looking, the most effective at keeping you warm, and the most likely to receive the local planning authorities seal of approval.
Read more about Heritage Windows in our comprehensive Guide to Replacing Windows in Listed Buildings