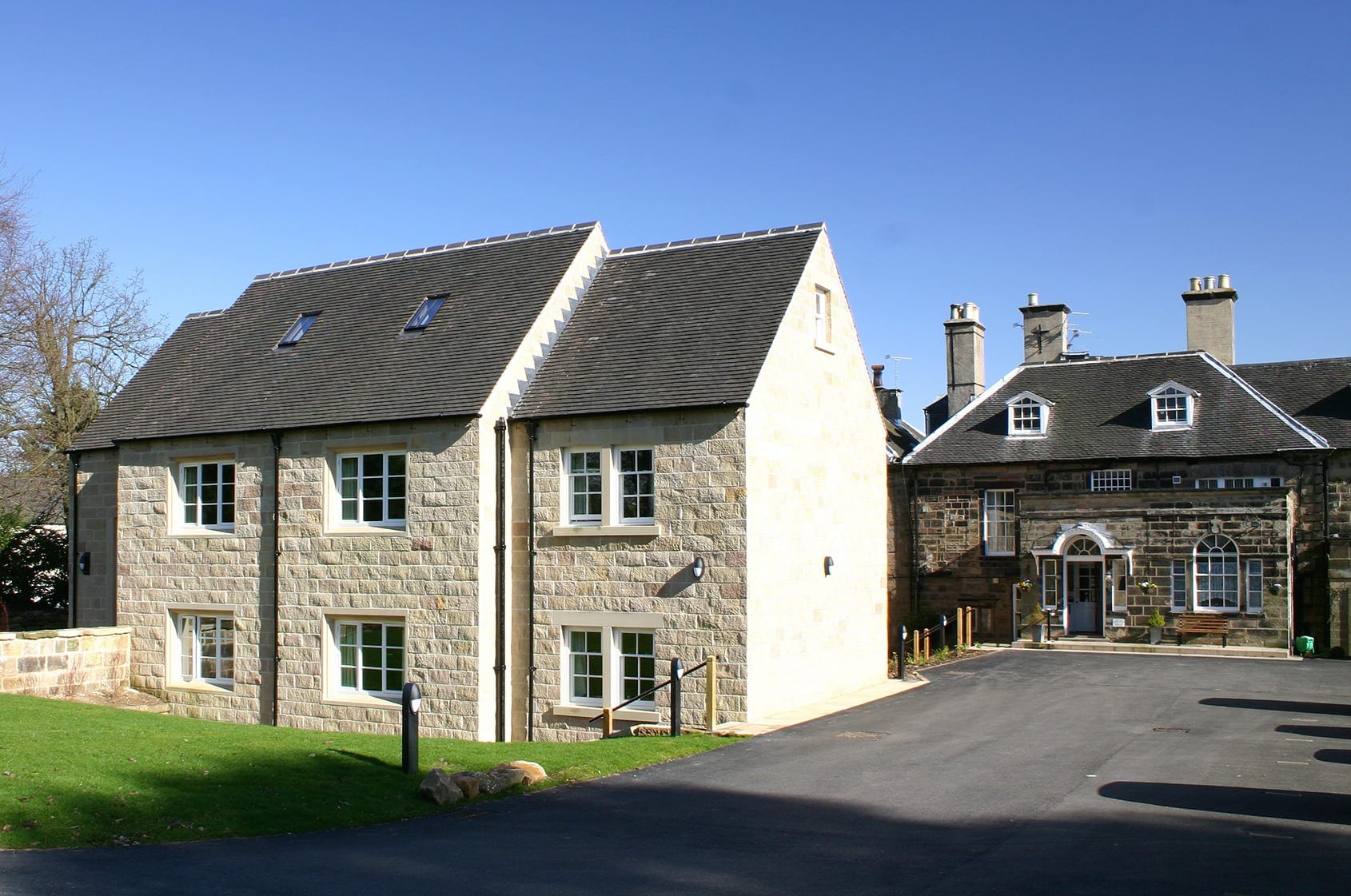 Accoya Heritage Window project, Belper, Derbyshire
This Grade II* Listed building needed a heritage window that satisfied planning constraints and offered high functionality and, importantly, heat retention to warm elderly residents. A combination of Accoya sliding sash and Accoya casement windows with slimline double glazing were designed and fitted to this characteristic Derbyshire residential home to the satisfaction of all.
An Accoya heritage window range with slim double glazing were custom designed for Holbrook Hall – a residential home in Belper, Derbyshire. There were many different aspects that the windows had to achieve.
Architect Darren Mayner BAHons BArch ARB was limited by conditions in the planning consent for the new extension to the type of windows that could be installed. The building already had single glazed units throughout, and the Planning Authority imposed a standard condition on the Planning Consent that "all the new windows should also be single-glazed, arguing that visible spacer bars and double reflections in double-glazed units would detract from the character of the listed building".
Slimline double glazing – the answer to a single glazed heritage window problem
Darren knew that some of the existing single glazed units had aftermarket double glazing fitted. This ad-hoc solution was neither very attractive or efficient.
Darren had heard that there were some wooden window manufacturers who could offer slimline double glazing so thin that they could comply with the planning regulations and make the properties more efficient. It was obvious that the elderly residents of the home were uncomfortable with the lack of heat retention offered by standard heritage windows and wanted to make sure the new units offered the best of both worlds.
Gowercroft worked with Darren to provide single and double glazed samples of the proposed units. These were then presented to the Conservation Officer at Amber Valley Borough Council to demonstrate that "no discernible difference could be seen between the two glazing products".
The officer agreed, and the regulations were altered to accommodate the new slimline double glazed units.
The Gowercroft Heritage Window Range
It was decided that the windows would be made from Accoya – an excellent hardwood from sustainable sources. Our treated Accoya timber offers excellent strength and resistance from weathering and ageing. It makes it an excellent choice for a commercial property where efficiency and maintenance are important. In addition, with a residential home, especially one in a listed building with strict planning constraints, the windows should not look 'industrial'.
Our Heritage Window range satisfied all of these criteria. You can read more about Darren Mayner's comment on the project here.
Friendly and Helpful
I found that Gowercroft offered both the slim double-glazing and Accoya timber products that I required for this project and when I contacted them Andy was happy to give me a guided tour of their small factory, still in Wirksworth at the time. He then provided quotes for different materials: softwood, hardwood and Accoya. The work I saw was of a high standard and they were friendly and helpful. It seems to be run like a small family business with customer care being a high priority! The double-glazed windows were all factory finished and fitted by Gowercroft to the satisfaction of myself, my client at Holbrook Hall and the Conservation Officer at Amber Valley Borough Council.
---
Gowercroft – your heritage window partner for Listed Building projects
Darren Meyner was impressed with Gowercroft's service and attention to detail. "The work I saw was of a high standard and they were friendly and helpful. It seems to be run like a small family business with customer care being a high priority!"
With our help Darren was able to fit the windows he needed to complete the project whilst satisfying the planning criteria. What's more, the residents at Holbrook Hall are happy and warm in their rooms!
If you have a need for an efficient and attractive heritage window for a listed building, Gowercroft will be happy to help!
What are Heritage Windows? Find out more on our blog!
Holbrook Hall Heritage Window Gallery
Back to Harvington Heritage Window Case Study – Read About Quarry Cottage Heritage Windows