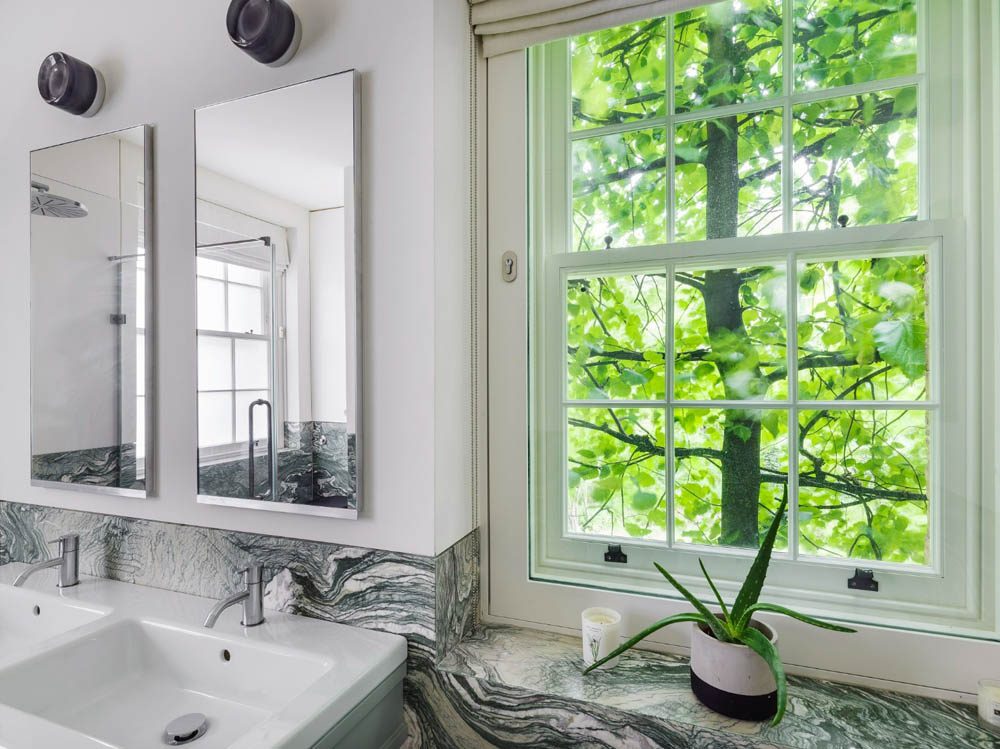 Energy Efficient Heritage Windows
This case study showcases how heritage windows can be used in a retrofit project to improve the energy efficiency of a building while preserving its character and historical features.
The retrofit of a low-energy Victorian house
The retrofit of Mews House, a low energy Victorian listed mews property in West London, demonstrates how 'deep sustainability' can go hand in hand with building conservation and traditional craftsmanship.
Constructed in 1878, as a traditional carriage house with classic stable doors, this property within a Conservation area once accommodated horse stalls and a hansom cab, with a hayloft and living quarters for the groomsman in the upper storey.
However, over the years, its piecemeal conversion to residential use had resulted in dark, poorly heated, badly laid out rooms and tired exterior facades.
Architects Prewett Bizley's aim was to completely remodel the interior into an inspirational light-filled open plan living space, enhance its external appearance within the local conservation area setting, and to drastically reduce the carbon footprint of this draughty nineteenth century property to better than that of a newly build home.
The importance of Winston Sliding Sash windows
The replacement of the existing single glazed windows with Gowercroft's Winston Sliding Sash windows was central to meeting both sustainability and conservation objectives.
The architect required higher performance levels than could be achieved with conventional windows, including superior thermal efficiency, longer life expectancy, plus a traditionally crafted timber aesthetic similar to the original 'multi-pane' windows in order to secure planning permission.
A total of 16 Winston Sliding Sash windows of varying sizes were installed. Traditional timber joinery features incorporated into the standard range, including 18mm glazing bars, traditional fitch fasteners, pulleys and sash limiters, concealed gaskets, and period ironware, delivered a ready-made authentic appearance.
The vacuum glazing was only 7mm thick and does not suffer from the double reflection and visible glazing bars that double glazing has. The slim Accoya® frames were painted white and coated with a microporous protective system and the whole windows were covered by a 10-year warranty.
Energy efficiency
The energy efficiency of vacuum glazing was critical, providing an overall U value of 1,5 W/m2K. This next generation glass allows future windows to reach 1.2. The air tightness of the frames with Gowercroft's excellent sealing system contributed to a very impressive air tightness resulting in close to 1 m3/m2hr at 50Pa, which is exceptional for a property like this.
Outstanding achievement
A landmark in heritage retrofit, the Mews House achieved a massive 82% measured reduction in the overall energy consumption (from 325 to 51kWhr/m2yr). Remarkably the current measured energy use is less than 2025 RIBA targets for new build houses.
Bob Prewett from Prewett Bizley said: "As the strategy for energy reduction was focussed on reducing heating demand, the replacement sash windows were absolutely central to achieving this, both from a U value point of view and reducing air infiltration. What's amazing when people visit is that they are totally convinced the windows are original and single glazed''
Gallery