How to choose the right wooden doors for your home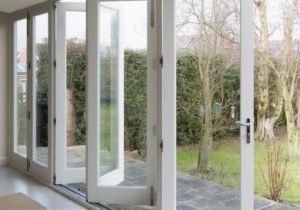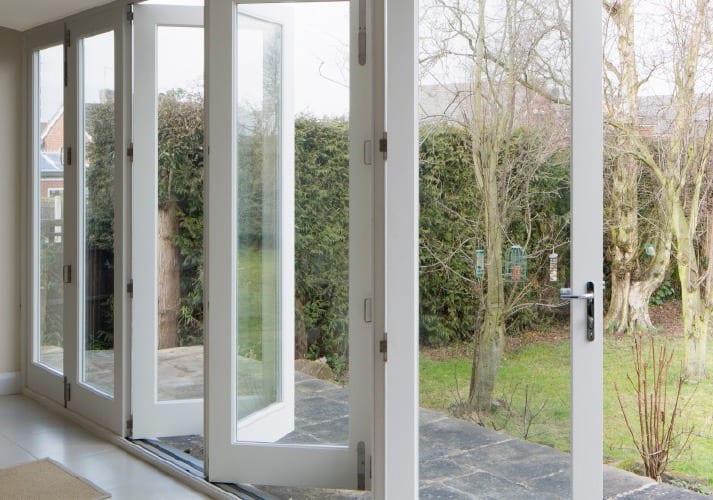 The ability to specify a large opening and create a seamless indoor/outdoor living space has been a considerable draw to homeowners. There are a few different options for creating this effect and each system has a slightly different niche. This blog posting deals sliding folding or lift and slide doors, looking at the pros and cons of each system.
What is a Lift and Slide Door?
Gowercroft manufacture, supply and install bespoke timber lift and slide doors to the exact size and specification of the customer. This ironmongery system is a relatively rare system in the UK, but can offer a different and exciting option in a number applications. Lift and slide doors are based on a high specification and expensive ironmongery system manufactured by Siegenia. This system allows a heavy door to be lifted off the draught excluder and then slide horizontally, either behind another door or into a pocket in the wall. The system is effortless to use and offers excellent energy efficiency and draught-proofing.
What is a Sliding, Folding Door?
Sliding, folding doors have become a staple of new build and large scale renovation projects across the UK. The sliding, folding door allows the concertina of a number of small (to a maximum of 1.1m) doors to one end of the frame – opening the entire space. We use a high quality, bottom rolling, storm cill version of the Centor sliding, folding door range – the F2. For full information on this system, please follow this link. This link will open in a new tab/window.
Sliding Folding or Lift and Slide Doors – Which is better for your property?
The main pros and cons of each system are listed below:
– The lift and slide system can offer very large door leafs (up to 3.2m wide), which run effortlessly behind one another. This maximises the glass surface area, giving better vistas and reducing the overall U-value of the door (increasing energy efficiency).
– The lift and slide system slides directly behind the side screen or wall, and does not protrude into the room or into your outdoor space. This means that actual living space is increased around the door. It also reduces the chances of colliding with the units and causing damage to yourself or the doors.
– The sliding, folding door typically offers a single or double door as a permanent access panel, which can make it more suitable for day-to-day use.
– The sliding, folding door can be concertinaed to give a full width opening. Each lift and slide door leaf that moves will have to slide behind another, which typically means that only 50% of the total width can be open at once. This can be solved by creating a pocket door, where the leaf/leafs travel into or behind the exterior wall, but is a costly and disruptive installation process.
– The configuration options for the sliding, folding door are greater, with the ability to create two sets that meet in the corner, or completely curved door-sets. In most day to day applications, this does not cause issues.
– The lift and slide door requires less manufacturing work on the frames and door leafs and is often the cheaper option compared to a long run of sliding folding doors. The pricing difference will obviously always depend on size, specification and configurations.
Fundamentally there are applications where either is the more appropriate option. If you want to discuss which may suit your home, then we'd be glad to talk to you and offer our input.