Wooden Patio Doors for a Steep Derbyshire Property
Building large wooden patio doors doors to this Derbyshire home was easy. Getting all the doors and windows to the property wasn't so easy... let's say it was very much an uphill struggle.
Wooden Patio Doors and Windows with a stunning panorama
The wooden patio doors for this lovely Derbyshire home were somewhat challenging for the fitting team, due to the fact that the house is on a very steep hill!
Rob Jones first approached Gowercroft in 2018 asking us to help with all his replacement windows and doors. Rob wanted to take advantage of his homes unique position on a steep hill by installing floor to ceiling wooden patio doors. The house is built into a very steep hill – so steep in fact that the ground floor is on the ground at the back, but on the first floor on top of the garage at the front.
We produced the whole range of replacements windows:
11 windows
2 single doors
1 stable door
2 large lift and slide door
2 large direct glazed screens
The used items taken from our Hardwick Flush Casement Window Range, the Melbourne range of Wooden Doors and the Peveril Lift and Silde door. It was the installation of the lift and slide doors that really makes this property special as the really show off the stunning view of the valley and surrounding hillsides. We also provided new window boards where the old ones had been damaged over time.
What is a conventional wooden sliding door?
Lift and slide doors are different to 'conventional' doors which operate on an inline sliding system. Conventioinal sliding doors sit on a track and you pull the door along the track with a handle to open and shut them. There are certain disadvantages to this system –
The bigger the door, the harder it is to operate – it's just too heavy. For this reason there are size limitations on inline sliding doors.
As the door sits directly on it's running gear, they are less energy efficient than normal doors and allow more heat to escape.
Lift and Slide Doors
Lift and slide doors allow much larger doors to be installed. They were developed to meet the need of larger patio doors with better thermal performance. The doors sit down on their track, and are lifted mechanically by rotating the handle and can then be rolled open. When closed the edges and bottom are sealed tight, and very secure. The rolling gear is more substantial than the inline door system, so much larger units can be installed. The increase in size and thermal efficiency make these windows perfect for windy hillside location.
Rob Jones' lift and slide doors and screens needed an upgrade in glass specification to handle the flexion of glass as they were so big. This upgrade also increased the weight and several door leafs were in excess of 100kg.
You can read more about Lift and Slide Doors on our blog.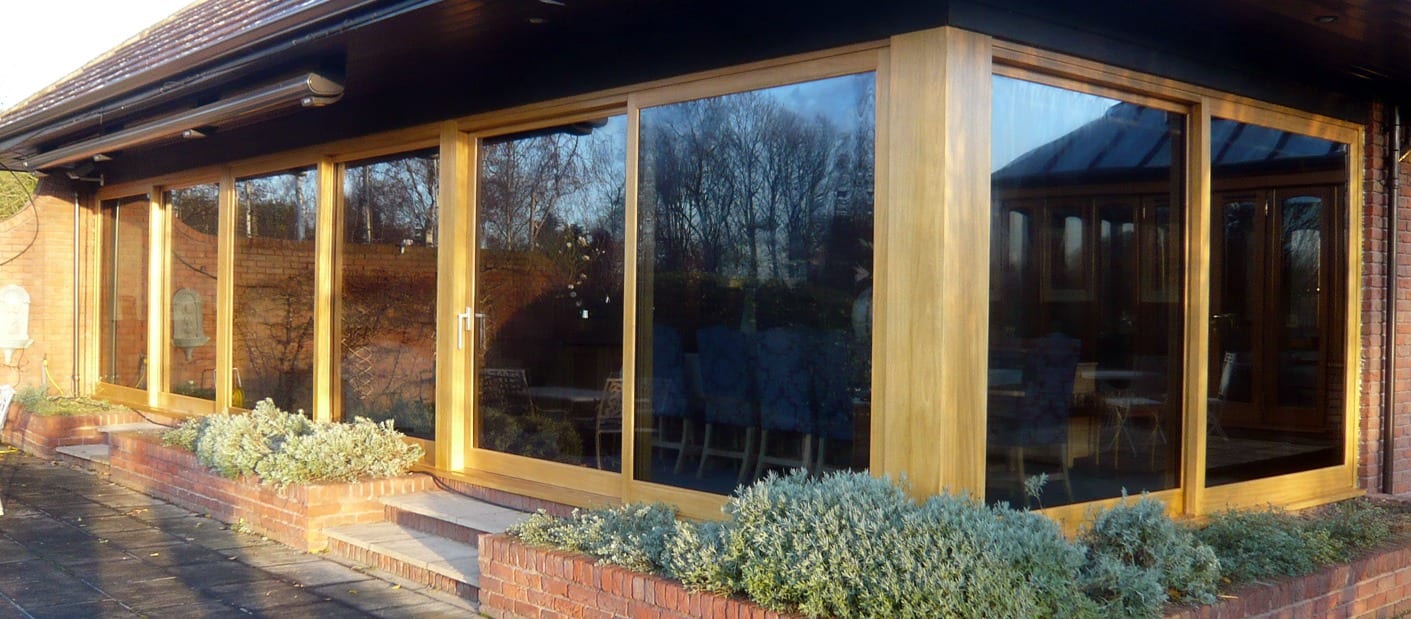 An example of lift and slide wooden patio doors
A difficult approach to installing wooden patio doors and windows
We had to organise this job in the production schedule so that Rob would be there for the important parts as he works away in the Falklands periodically. This meant that careful planning of the survey and then installation. Once the doors and windows were manufactured, we could look at installing the units, which is where the fun began.
As previously mentioned, the house is on a steep hill – around a 20% gradient. The property is on a very narrow, bendy country road which were hard work for our fully laden fitting vans. Then the house itself has a steep drive, and the only access to the rear of the building is via a steep, narrow sets of stairs either side of the house, or on the turfed hill itself.
The location and the fact that we had built much larger, heavier wooden patio doors than usual meant we had to recruit extra hands to help the fitting team on site – there's just no way the lads would have been able to lift and move the big units on their own. All the windows and doors were moved and installed without incident, and Rob is very happy with his new, improved views of the surrounding countryside, the lovely windows and doors themselves and the added security and efficiency benefits the replacement windows and doors offer him.
What makes our wooden windows doors so special?
Material
We used Accoya high performance timber to manufacture the products in this installation. Accoya is the world's leading long life, sustainable wood. It is guaranteed not to rot for 50 years and it's stability means that Accoya products will not be subject to the damage caused by long term seasonal expansion and contraction that most woods are susceptible to. Accoya is ethically sourced from sustainable sources and it's long working life eases the need for replacement trees. Read more about Accoya Wood.
Design and Manufacture
Our windows and doors go through a meticulous design process to ensure you have a trouble free installation and years of maintenance free operation from your windows and doors. We ensure that the finished product is mechanically and aesthetically excellent. We have spent many years perfecting our build and painting processes to produce windows and doors that are beautiful, mechanically excellent and offer many years of maintenance free service.
Aftercare
We do also offer an after installation care service – TimbaCare. This lifetime guarantee for our windows and doors covers any maintenance and upkeep to ensure you get the best from your new installation with all work and replacement parts covered. Find out more on our TimbaCare page.
Back to Gerrards Cross Accoya Doors – Forward to Chestnut Way Floating Corner Bifold Doors