The Winston heritage sliding sash window is a revolutionary new window exclusively available from Gowercroft Joinery. Already specified on several Grade II listed properties, including Winston Churchill's former home, and shortlisted for Build It Awards "Best Windows", Winston heritage sliding sash windows are ideal for period and listed buildings, where high specification windows with a genuine slim-lined aesthetic are required.
Why do we need the Winston Heritage Sliding Sash?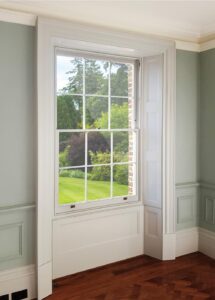 When designing windows for heritage projects, a compromise often has to be made between the conservation officer's requirements to maintain the character of the building and the client's desire to minimise the ongoing energy and maintenance costs. In a considerable number of projects, the compromise has been to replace single glazed windows with slim double glazed windows. While on the face of it this would seem to appease both parties, this glazing is fundamentally unfit for purpose and in the short to medium term will not achieve either party's aim. As the unit performance reduces and many of the units break down, the property owner will be left without the promised improvement and the conservation officer will be faced by a property with heavily condensated units which are unsustainable for the character of the building. If you are interested in getting more information about the problem of slim double glazed units, then read our blog on the subject.
Gowercroft are well known for our exceptional work on heritage and listed buildings, so we are frequently asked to manufacture high quality windows with slim double glazing; however, it does not sit within our ethics and beliefs, to provide a product which we know will not perform. This left us with a dilemma; either turn away a good customer, or sell them a product we knew was less than ideal. Faced with this situation, our product development team worked hard to scour the market to find innovative materials, which led us to design the Winston heritage sliding sash window. This window is a true alternative to single glazing in that the glass unit is only 6.4mm thick, but the performance exceeds even modern double glazed windows.
Key features of the Winston heritage sliding sash window
The unique combination of Gowercroft's traditional joinery, Pilkington Spacia™ ultra-thin vacuum glazing, modified Accoya® timber, our Patented SashSealer system, and the latest in micro-porous paint coatings makes the Winston heritage sliding sash window truly revolutionary!
The Winston heritage sliding sash window provides the following benefits:
Slender 18mm glazing bars, with an elegant, extended profile to further reduce the perceived width. Internal and external bars to replicate traditional putty pointed window design. Period ironware including fitch fasteners and sash pulleys. Operation via traditional lead weight system.
Gowercroft's patented SashSealer technology, which achieves BSI Class 4 air permeability standards. All gaskets are fully concealed and cannot be seen on either face of the window.
Whole window U-values better than standard double glazed timber windows, surpassing Part L Building Regulations requirement for new build properties. For an example Winston heritage sliding sash window of 1230mm x 1480mm, would deliver a whole window U-value would be below 1.35W/m².
As Pilkington Spacia™ is weld-sealed, there is no gas leakage so its energy efficiency does not diminish with time (Double Glazing In Listed Buildings; Research report 2: Thermal performance Report commissioned by Changeworks on behalf of Historic Scotland, March 2010).
Full 10-year guarantee, with no maintenance requirements and no small print, on all elements of the window. Fully eligible for our lifetime guarantee under our TimbaCare serviced maintenance programme. Accoya® acetylated wood has the best longevity of any timber on the market; the raw timber is class 1 durability-rated and has a 70-year minimum service life (demonstrated in research by TRADA).
The Winston Heritage sliding sash window offers a genuine, long term solution to the listed building and conservation market. Our heritage range includes the Richmond heritage flush casement window and bespoke doorsets, so you can complete the whole project in a unified style.
We service the whole of the U.K., so if you have an upcoming project and would like further information, an onsite demonstration of the product or a full tour of our Derbyshire workshop, then call us today!